Discovering Your Source of Joy | 64 Happy Quotes
The pursuit of happiness is something that everyone can relate to. Happiness is the ultimate goal and the indicator of a successful and fulfilled life. No matter the circumstance, it is always nice to maintain a healthy portion of happiness that is kept on the inside and treasured over material possessions. What makes us happy is different depending on the individual.
What is it that makes you happy? Is it spending time with loved ones? Playing sports? Creating a masterpiece? You may still be on the journey to discover your true source of happiness. One thing is certain and that is a happy life is a good life. Here are some happy quotes that will transform your outlook on life.
Short Happy Quotes
A genuine smile makes you extra beautiful.
Happy people are the best people to be around.
The optimistic mind achieves more and lives happier.
Laughter is good for the soul. A smile warms the heart.
Love always leads to happiness.
You know your friends are good ones when they make you smile and love life.
A pretty person will never be beautiful with an ugly heart. A happy heart makes for a beautiful person.
Be slow to hold onto the people who hurt you. Be quick to hold onto the people that make you happy.
Happy people live longer because a smile heals the heart and laughter is the best medicine.
True satisfaction is found in the people you love, not the money you make.
Miserable people fight through life trying to survive. Happy people glide through life with ease and joy.
Don't be ashamed of your past. Look forward to a happier future because the best days are ahead of you!
Happiness comes easy with you here with me!
Defeat bitterness with kindness. Kill hatred with happiness.
Change your thoughts and become a happier person.
I'm grateful for the many reasons I have to smile.
Inspirational Happy Quotes
You wouldn't appreciate the brighter days without seeing the stormy ones and you wouldn't appreciate the light without the darkness. Likewise, you wouldn't appreciate the happy days without the sad ones.
You make me incredibly happy when I'm around you. That tells me you're a great friend!
Enjoy life by being happy and making others smile.
Loving someone and being loved by someone are two of the happiest feelings in the world!
Reject shame and abandon sadness. Choose happiness all the days of your life.
Happiness and hatred cannot dwell in the same place. You must rid your heart of hate to make room for happiness.
Write your life story and make it a happy one!
Don't focus on the things that steal your joy. Count the many reasons you have to be happy.
The best lesson life has to offer: Happiness is not found in people, places, or things. True happiness comes from within the heart.
Be happy even when you have a million reasons to worry. Worry will shorten your days on Earth, but happiness will add years to your life.
When you stop chasing after the things you don't have and appreciating what's right in front of you, you will become a happier person.
Funny how the people who live the simplest of lives are usually the happiest people you'll ever meet.
Sometimes you have to get through the pain to experience the joy waiting at the end of the storm.
If you want to wake up happy, don't go to sleep pondering your worries.
Have fun being you and unashamed. If being happy offends someone, let them be offended.
Spend every breathe speaking positive words and watch your outlook on life transform.
See life through the lens of happiness and you will find beauty.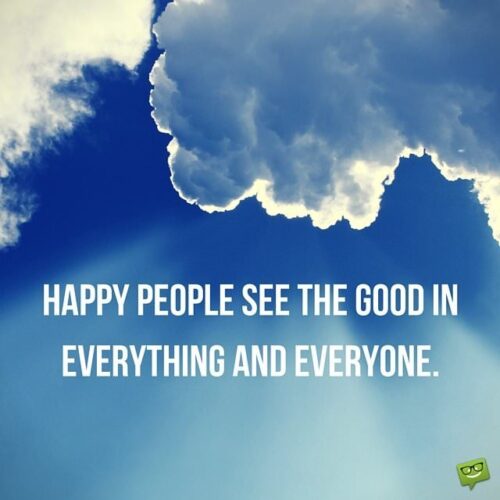 Happy people see the good in everything and everyone.
I love you and I'm hoping your happiness lasts for all eternity.
Never give your situation the power to rob you of your happiness. No matter what frustrations you face, conquer difficulties with a happy spirit.
Better choices. Happier Life.
Be the person that makes someone smile today. Change a life.
Happiness is found in giving to others, not in receiving.
Express yourself and share your light with the world!
Keep your friends and family close to you always. Happy relationships are good for you.
I have so many things to be grateful for and so many blessing to count!
Faking a smile is the hardest thing to do when you're down. But, eventually, the smile on your face will make its way to your heart, easing the pain and healing the hurt.
The less worrying you do, the happier you will become. Don't stress the things you can't change.
Friendship is a trusted source of happiness.
Life brings so many hard choices. The easiest of them all is to be happy.
Be inspired to be courageous, bold, and unashamed of the person you are.
Don't chase away the people who make you happy and see the best in you.
Cute Happy Quotes
Happiness is infectious. When you are happy, the people around you can't help but to smile.
Happiness comes and goes because it is dependent on the circumstances of life. Joy is an inward force unstoppable and unaffected by the happenings of life.
Life is short. Don't spend it in misery. Make the necessary changes to make your life happy.
Happy people spend less time tearing people down and more time building people up.
A good heart yields fruits of happiness year round. An evil heart bears no good fruit.
I've wasted time trying to find people who will make me happy only to find that I am the only person that should have that kind of power over me.
A humbling experience is finding someone who has more reasons to cry than you do, and yet, they are happier than you are.
Do you want to defeat your enemies? Be happy and unaffected by their ill intentions and kind to them even when they don't deserve it.
Smiles are free. Laughter is free. Why are people chasing after money when happiness doesn't cost a thing?
Realize how awesome you are and never change. The love of life is contagious!
You may also like:
Change Before You Have To | Quotes about Change
85+1 Positive Quotes about the Bright Side of Life
Too Good To Pass By | 82 Thankful Quotes