40+ Genuine Quotes about Life and Love by Kid Cudi
Kid Cudi, or Scott Mescudi as his real name is, dropped like a comet in the rap scene, as with his first mixtape A Kid Named Cudi in 2008 immediately grasped the attention of Kanye West. Signed in West's label, Cudi released his first single Day 'n' Night in 2008, which met huge success and soon became a hit. Followed by the debut album Man on the Moon: The End of Day in 2009, with chart treasures like Pursuit of Happiness, Kid Cudi made it clear that his passing through the music world wasn't going to be ephemeral. Additionally, the multi-talented singer unleashed his artistic gift in the acting stage too. The offers for parts in movies and series were coming like a rainfall after he first appeared in the HBO show How to Make It in America in 2010. However, his excessive work hours in combination with past trauma led him to burnout in 2016, when he retreated from the spotlight to fight with depression.
Drawing from personal experience, Kid Cudi often incorporates references to depression and loneliness in his lyrics. On this list, we are presenting Kid Cudi's most genuine quotes, about heartbreak, pretentious smiles and life from a man who surely knows what he talks about. Such is the inspiration Kid Cudi radiates, that even led Travis Scott to use his real name (Scott Mescudi) as his own stage one. So, wait no further and dive in.

Best Kid Cudi Quotes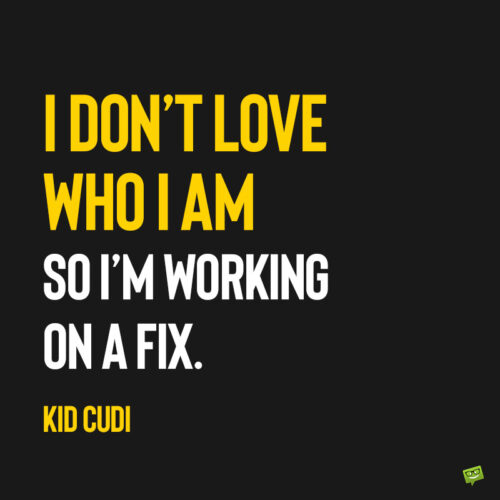 Kid Cudi's Love quotes
Kid Cudi Quotes about Life
If you like it, pin it!

You May Also Like:
120 Tupac Quotes About Everyday Struggle
62 Quotes from The Weeknd's Songs and Interviews
52 Introspective Lana Del Rey Quotes About Love and Life
40 Funny and Stimulating Quotes by Tyler the Creator
50 Fierce Nicki Minaj Quotes To Build Your Confidence