162 Mental Health Quotes to Support our Well-Being
Your mental health will affect everything you do no matter what age you are. It is as of the same significance as your physical well being. The ability to be cognitive is vital and you want to acknowledge the emotional and psychological parts of who you are so to feel and enjoy the happiness and love in life. In spite of the hardships, a reminder of a looking at the glass half full attitude will keep you positive and optimistic as many famous individuals do and claim through these mental health quotes.
If you're looking on the bright side and doesn't seem enough, don't despair! Read on to find an incredible selection of quotes from celebrities, intellectuals, authors and more and see what they have stated on awaiting that ray of light. Whether it is a personal trauma, abuse or genetic factors, there is help available even if it is simple guidelines to overcome a situation. Don't hesitate to contact Mentalhealth.Gov in the US or other help lines in your area. Tomorrow is a new day!

Best Mental Health Quotes
The sky is not falling and life will return to normal. Asa Don Brown
The medicine is your mindset. SeKeithia Johnson
Behind every trigger is a wound in our past. Jessica Moore
We pay a lot of attention to our diet, but never to our mental health. Neha Pendse
A sad soul can kill you quicker than a germ. John Steinbeck
A pill cannot make your unconscious, conscious. Serena Jade
Good mental health requires a sense of humor about yourself. Phillip Barea
Man needs difficulties; they are necessary for health. Carl Jung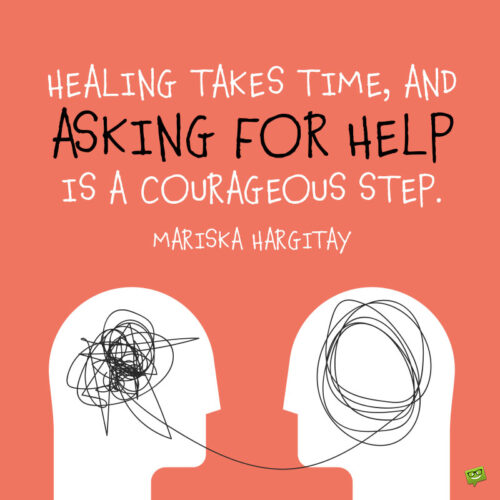 Self-esteem is not a luxury; it is a profound spiritual need. Nathaniel Branden
The light you are searching for can be found in your reflection. Hannah Blum
Deep breathing is our nervous system's love language. Dr. Lauren Fogel Mersy
I am a crazy person living a crazy life in a crazy world. Steven Magee
Pay careful attention to anything you try to hide. Gretchen Rubin
A confused mind tends to be the most creative. Steven Magee
We are not all in the same boat. We are in the same storm. Some of us are on superyachts. Some of us have just the one oar. Damian Barr
Teach your children to develop a healthy imagination. Asa Don Brown
Protect your mental health. You don't have to try to be everything to everyone. Keishorne Scott
I realize that if love were the cure, I would have been healed a long time ago. Oliver Sacks
What mental health needs is more sunlight, more candour, and more unashamed conversation. Glenn Close
There's a reason why so few make it out of the trap of their own mind. The trap all too often seems to be just fine from day to day. Gary John Bishop
They pull at a thread of pain left by someone in your mind, and sew an entire ghost out of you. Nikita Gill
When it comes to our minds, awareness is very often the solution itself. Matt Haig
I would never slay the dragon, because the dragon was also me. John Green
My room is the safest place my body has. My mind doesn't really have a safe place. Anna Whateley
If you're feeling mentally unwell, treat yourself as you would a physical problem. Matt Haig
You don't need to find a lesson in your trauma. Jordan Pickell
Mental illness may be invisible, but the people who live with it are not. Hannah Blum
Life is like a tree and its root is consciousness. Therefore, once we tend the root, the tree as a whole will be healthy. Deepak Chopra
Lunatics are not the only ones to be called lunatics. Raheel Farooq
Meditation will declutter your mind from the negative emotions to make way for more positivity. Shivanshu K. Srivastava
We live in a world where mental health is real. Emotional health is real, and people feel like no one cares. Malik Yoba
The grass is not 'greener' on the other side – it is just another shade of green. Annika Sorensen
The healthy man does not torture others – generally it is the tortured who turn into torturers. Carl Jung
What people never understand is that depression isn't about the outside; it's about the inside. Jasmine Warga
Inspirational Mental Health Quotes
There is no standard normal. Normal is subjective. There are seven billion versions of normal on this planet. Matt Haig
Mental health affects every aspect of your life. It's not just this neat little issue you can put into a box. Shannon Purser
She was kidnapped, held hostage in her own nightmare, being tortured by her own mind. Arti Manani
Hopelessness is the root of anxiety, mental illness, and depression. It is the source of all misery and the cause of all addiction. Mark Manson
Anxiety does not empty tomorrow of its sorrows, but only empties today of its strength. Charles Spurgeon
Happiness can be trained because the very structure of our brain can be modified. Richard Davidson
Superficiality breeds insecurity, simplicity breeds contentment. Abhijit Naskar
At the end of the day, sleep is a barometer of your emotional health. Mehmet Oz
Depression is like losing a loved one, but the person you lose is yourself. K. J. Redelinghuys
The arrival of a good clown exercises a more beneficial influence upon the health of a town than of twenty asses laden with drugs. Thomas Sydenham
Doubts are like swallows. They follow each other and swarm together. Matt Haig
I can't change the direction of the wind, but I can adjust my sails to always reach my destination. Jimmy Dean
Sometimes feeling good isn't about picking up more things to do, but about letting go of things that have nothing to do with you. Curtis Tyrone Jones
No amount of anxiety can change the future. No amount of regret can change the past. Karen Salmansohn
Feeling your feelings will not lead to depression. Jordan Pickel
I would like to be helped but not to understand. Because I understand too much. Alda Merini
Imagine how many suicide victims would still be with us, if only the right person said the right thing at the right time. Wayne Gerard Trotman
Learn to read symptoms not only as problems to be overcome but as messages to be heeded. Gabor Maté
Just having a place to sit and be thankful each day improves mental health. Jessica Marie Baumgartner
Maybe we all have darkness inside of us and some of us are better at dealing with it than others. Jasmine Warga
Some seek the comfort of their therapist's office, other head to the corner pub and dive into a pint, but I chose running as my therapy. Dean Karnazes
Mental health problems don't define who you are. They are something you experience. You walk in the rain and you feel the rain, but, importantly, YOU ARE NOT THE RAIN. Matt Haig
One small crack does not mean that you are broken, it means that you were put to the test and you didn't fall apart. Linda Poindexter
Overnight stardom can be harmful to your mental health. Yeah. It has ruined a lot of people. Clint Eastwood
Real optimism is not the pep talk you give yourself. It is earned through the labor involved in emotional housekeeping. Augusten Burroughs
The concept of "mental health" in our society is defined largely by the extent to which an individual behaves in accord with the needs of the system and does so without showing signs of stress. Theodore J. Kaczynski
Start listening to the way you talk to yourself. These interactions will tell you how well you know yourself, how much you respect yourself, and what boundaries you are lacking. Sara Kuburic
Darkness is a giftit illuminates the light that is you. Bakhtawar Mehdi
Positive Mental Health Quotes
You look at me and cry; everything hurts. I hold you and whisper: but everything can heal. Rupi Kaur
There is a crack in everything, that's how the light gets in. Leonard Cohen
Smiling is one of our greatest defense mechanisms. Asa Don Brown
You, yourself, as much as anybody in the entire universe, deserve your love and affection. Buddha
Keep your face always toward the sunshine, and shadows will fall behind you. Walt Whitman
Accept feelings and accept that they are just that: feelings. Matt Haig
Do not allow yourself to be bogged down by negative thinking. Asa Don Brown
Let your story go. Allow yourself to be present with who you are right now. Russ Kyle
Your illness is not your identity. Your chemistry is not your character. Pastor Rick Warren
All of us have mental health issues; some of us just fake sanity better. Runa Pigden
Be proud of yourself for the effort, especially the parts that no one else saw. Andrena Sawyer
Being yourself is the most valuable currency than an exchange for being in character. Goitsemang Mvula
Forgive yourself. For being broken. For being you. For thinking those are things that you need forgiveness for. Jenny Lawson
I have come to realize making yourself happy is most important. Never be ashamed of how you feel. You have the right feel any emotion you want, and do what makes you happy. Demi Lovato
It's okay to talk about mental health issues. It's okay to admit that you have anxiety. It doesn't take away from your power. It's totally normal. Torrey DeVitto
I promise you nothing is as chaotic as it seems. Nothing is worth diminishing your health. Nothing is worth poisoning yourself into stress, anxiety, and fear. Steve Maraboli
It's possible to live well, feel well, and also find happiness with bipolar disorder or any other mental illness [you're] struggling with. Demi Lovato
My shrink says the job of your life is to know yourself. Sooner or later, you'll start to love who you are. Roger Sterling
Take a deep breath to remember you are the child who lived through survival mode and the empowered adult who chose their healing. Dr. Nicole LePera
There is hope, even when your brain tells you there isn't. John Green
This feeling will pass. The fear is real but the danger is not. Cammie McGovern
Though I am often in the depths of misery, there is still calmness, pure harmony and music inside me. Vincent van Gogh
We are not our trauma. We are not our brain chemistry. That's part of who we are, but we're so much more than that. Sam J. Miller
You can't control everything. Sometimes you just need to relax and have faith that things will work out. Let go a little and just let life happen. Kody Keplinger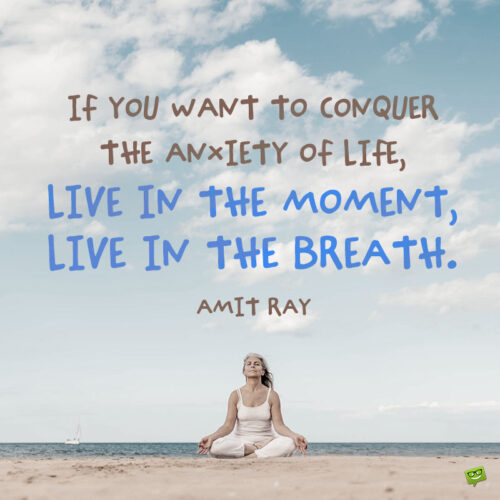 Mental Health Motivational Quotes
It's never too late to take your heart health seriously and make it a priority. Jennie Garth
Don't let anyone or anything make you feel you aren't enough. Matt Haig
Take care of your mental health, leave negative spaces. Mitta Xinindlu
Let today be the day you stop living within the confines of how others define or judge you. Steve Maraboli
Nothing diminishes anxiety faster than action. Walter Anderson
Healing isn't about overcoming the pain; it's living despite it. Hannah Blum
If you are broken, you do not have to stay broken. Selena Gomez
Feelings come and go like clouds in a windy sky. Conscious breathing is my anchor. Thich Nhat Hanh
You don't have to control your thoughts. You just have to stop letting them control you. Dan Millman
In any given moment, we have two options: to step forward into growth or to step back into safety. Abraham Maslow
Change what you can, manage what you can't. Raymond McCauley
Just because no one else can heal or do your inner work for you doesn't mean you can, should, or need to do it alone. Lisa Olivera
Your present circumstances don't determine where you can go; they merely determine where you start. Nido Qubein
If you want to conquer the anxiety of life, live in the moment, live in the breath. Amit Ray
My recovery from manic depression has been an evolution, not a sudden miracle. Patty Duke
The best thing you could do is master the chaos in you. You are not thrown into the fire, you are the fire. Mama Indigo
Breaking an addiction is never easy, but it can be done. You are stronger than that red-faced demon screaming in the bathroom. Callie Bowld
But no matter how much evil I see, I think it's important for everyone to understand that there is much more light than darkness. Robert Uttaro
Dear Stress, I would like a divorce. Please understand it is not you, it is me. Thomas E. Rojo Aubrey
I try to make my bed every day for mental health. Coming home to an unmade bed or a room with clothes all over will depress me. David Alan Grier
Just because something is familiar, doesn't mean it's safe. And just because something feels safe, doesn't mean it's good for you. Brittany Burgunder
Nobody can save you but yourself, and you're worth saving. It's a war not easily won, but if anything is worth winning then this is it. Charles Bukowski
Often it's the deepest pain which empowers you to grow into your highest self. Karen Salmansohn
Taking care of your mental and physical health is just as important as any career move or responsibility. Mireille Guiliano
Sometimes the people around you won't understand your journey. They don't need to, it's not for them. Joubert Botha
Success is not final, failure is not fatal: it is the courage to continue that counts. Winston Churchill
There were days I wanted to give up, but hope everyday would push me to the next day. I kept saying, this is going to pass. So there is hope. Deepika Padukone
As you reflect back on the previous weeks, months or year, look for moments you can celebrate too. There will be some, even if you have to look a little harder. Emily Coxhead
I cannot stand the words "Get over it"… Don't allow other to hurry your healing. It is a process, one that may take years, occasionally, even a lifetime – and that's OK. Beau Taplin
Quotes About a Strong Mental Health

None but ourselves can free our minds. Bob Marley
I am not afraid of storms for I am learning how to sail my ship. Amy March
If you're going through hell, keep going. Winston Churchill
Be patient and tough; some day this pain will be useful to you. Ovid
I'm not here to sugar-coat grief. I'm here to be transformed by it. Maya Kalaria
Healing takes time, and asking for help is a courageous step. Mariska Hargitay
Beautiful soul, do not give up. What we believe to be the end is usually just the beginning. Hannah Blum
My dark days made me strong. Or maybe I already was strong, and they made me prove it. Emery Lord
Never bend your head. Always hold it high. Look the world straight in the eye. Helen Keller
Not until we are lost do we begin to understand ourselves. Henry David Thoreau
The bravest thing I ever did was continuing my life when I wanted to die. Juliette Lewis
Happiness can be found even in the darkest of times, if one only remembers to turn on the light. Albus Dumbledore
You are beautiful because you let yourself feel, and that is a brave thing indeed. Shinji Moon
Promise me you'll always remember — you're braver than you believe, and stronger than you seem, and smarter than you think. Christopher Robin
I think dealing with a mental illness is something worthy of being a superhero. K. J. Redelinghuys
The hidden strength is too deep a secret. But in the end. . . in the end it is our only ally. Joanne Greenberg
If you have been brutally broken but still have the courage to be gentle to other living beings, then you're a badass with a heart of an angel. Keanu Reeves
If you want to see the stars, you must be willing to travel through the dark. Hannah Blum
In the middle of winter I at last discovered that there was in me an invincible summer. Albert Camus
Increasing the strength of our minds is the only way to reduce the difficulty of life. Mokokoma Mokhonoana
Recovery is full of ups and downs. There is no such thing as a linear life. But you can always turn your setbacks into setups to come back stronger. Brittany Burgunder
The strongest people are not those who show strength in front of the world but those who fight and win battles that others do not know anything about. Jonathan Harnisch
Sometimes you climb out of bed in the morning and you think, I'm not going to make it, but you laugh inside — remembering all the times you've felt that way. Charles Bukowski
World Mental Health Day Quotes
Mental illness is nothing to be ashamed of, but stigma and bias shame us all. Bill Clinton
Leaving people alone in their confusion, fear and despair is not an option in any society. Reena Nath
Mental health is often missing from public health debates even though it's critical to wellbeing. Diane Abbott
Mental illness is a pandemic. Steven Magee
There is a lot of sadness in the USA. Steven Magee
I believe the biggest stigma right now, with mental health, is that a lot of men are not talking about it. Mauro Ranallo
Try to be a rainbow in someone else's cloud. Maya Angelou
Whether an illness affects your heart, your leg or your brain, it's still an illness, and there should be no distinction. Michelle Obama
Emancipate yourselves from mental slavery. Bob Marley
There still are so many people who are suffering in silence. And there's still this stigma attached to mental health which we've got to completely obliterate. Prince William
A child's mental health is just as important as their physical health and deserves the same quality of support. Kate Middleton
People without depression won't understand that, but the fatigue of mental illness makes your very body a prison. Jenny Lawson
Society is collapsing, and people are starting to recognize that the reason they feel like they're mentally ill is that they're living in a system that's not designed to suit the human spirit. Russell Brand
The biggest disease today is not leprosy or tuberculosis, but rather the feeling of being unwanted. Mother Teresa
It's so important that we all speak up on mental health. Anne-Marie
It's not a surprise that the mental health epidemic is affecting so many people because we can't escape this bubble from being on our phones and tablets. Ben Fogle
We take care of our dental health. We don't take care of our mental health … I think the solution to making the world better is if we would just be healthy, mentally. Howie Mandel
Mental health needs a great deal of attention. It's the final taboo and it needs to be faced and dealt with. Adam Ant
There is so much pain in the world, and most of these people keep theirs secret, rolling through agonizing lives in invisible wheelchairs, dressed in invisible bodycasts. Andrew Solomon
We need to have mental health support and early interventions integrated into our education system from a young age. Sanam Saeed
If we start being honest about our pain, our anger, and our shortcomings instead of pretending they don't exist, then maybe we'll leave the world a better place than we found it. Russell Wilson
It is as if my life were magically run by two electric currents: joyous positive and despairing negative–which ever is running at the moment dominates my life, floods it. Silvia Plath
The experience I have had is that once you start talking about [experiencing a mental health struggle], you realize that actually you're part of quite a big club. Prince Harry
Together with open conversations and greater understanding, we can ensure that attitudes for mental health change and children receive the support they deserve. Kate Middleton
When your heart cries because it wants to be free,But your mind feels as though it is stuck in cement. This is the reality of those who suffer depression and mental health issues. Gillian Duce
You May Also Like:
150 Anxiety Quotes to Help You Cope with your Everyday Struggles
Reclaim Your Power | 112 Healing Quotes
Don't Forget To Love Yourself | 149 Self Love Quotes