111 Running Quotes for a Good Run Inspiration
Running is the sports activity of choice for millions of people around the world. Whether you are an avid, long distance runner preparing for the marathon or a beginner looking for a motivational boost, here we have curated for you the most inspirational running quotes as your daily dose of encouragement!
Some people take up running in order to lose weight, others to stay fit and healthy or to prepare for a race like a marathon. Whatever the reason, running offers many benefits to your physical and mental health, and is an effective way to relieve stress and enhance your mood. It improves heart health and circulation and is beneficial for the whole cardiovascular system. It increases you aerobic capacity, improving muscle flexibility and endurance, and enhances your concentration and quality of sleep.
Contrary to other activities and hobbies, running has minimal cost, since it does not require any special equipment, and you can run almost everywhere. However, as with any other physical activity, it is wise to take it slow, like a brisk walk or a light jog before you start running longer distances.
Miracles do not happen overnight, it takes time. In the beginning within a few minutes you will feel your breathing getting harder, your heart pumping like crazy and your whole body wanting to give up. But if you persist and follow it as a daily discipline, running will evolve into something greater, promoting self-discovery and allowing you to transcend your limitations. You will realize that it is a mental affair and it is not about the distance you run but it is all about conquering yourself. So what are you waiting for?
Share these quotes with friends and loved ones to motivate them! Reflect upon them to boost your confidence and get fueled up for a good run!
Table of Contents
Short and Cool Running Quotes To Caption Your Photo Posts
If you are looking for some cool quotes to pair with your Instagram and social media posts and captivate the attention of your audience, look no further!
Your mind will quit a thousand times before your body will. Feel the fear and do it anyway! Unknown
What seems hard now will one day be your warm-up. Unknown
Every day is a good day when you run. Kevin Nelson
Running is my meditation, mind flush, cosmic telephone, mood elevator and spiritual communion." Lorraine Moller
We are what we repeatedly do. Excellence, then, is not an act, but a habit. Aristotle
Running is my private time, my therapy, my religion. Gail W. Kislevitz
I don't run to add days to my life, I run to add life to my days. Ronald Rook
As we run, we become. Amby Burfoot
Don't dream of winning, train for it! Mo Farah
I run because it always takes me where I want to go. Dean Karnazes
Look in the mirror. That is your competition. Unknown
A short run is better than no run. Unknown
My feeling is that any day I am too busy to run is a day that I am too busy. John Bryant
Someone who is busier than you is running right now. Nike
One run can change your day. Many runs can change your life. Unknown
Shut up legs. We got this. Unknown
If it doesn't challenge you, it won't change you. Fred DeVito
When your legs get tired, run with your heart. Unknown
The reason we race isn't so much to beat each other,… but to be with each other. Christopher McDougall
Running is about finding your inner peace, and so is a life well lived. Dean Karnazes
Some seek the comfort of their therapist's office, other head to the corner pub and dive into a pint, but I chose running as my therapy. Dean Karnazes
Fast running isn't forced. You have to relax and let the run come out of you. Desiree Linden
Pain is inevitable. Suffering is optional. Haruki Murakami
If you start dreaming you are not running fast enough. Jacob Vermeire
There's not one body type that equates to success. Accept the body you have and be the best you can be with it. Mary Cullen
Ask yourself: 'Can I give more?'. The answer is usually: 'Yes'. Paul Tergat
Run like hell and get the agony over with. Clarence DeMar
I'll be happy if running and I can grow old together. Haruki Murakami
Someday you won't be able to do this. Today is not that day. Unknown
Tough runs don't last; tough runners do. Unknown
It's at the borders of pain and suffering that the men are separated from the boys. Emil Zatopek
After all, if you run far enough, no one can catch you. V.E. Schwab
All it takes is all you got. Marc Davis
You must do the thing you think you cannot do. Eleanor Roosevelt
Inspirational Running Quotes
The following uplifting quotes have been selected to inspire you with positive energy and help you get the best out of yourself!
I breathe in strength and breathe out weakness. Amy Hastings Cragg
Never limit where running can take you. I mean that geographically, spiritually, and of course, physically. Bart Yasso
Running is the greatest metaphor for life, because you get out of it what you put into it. Oprah Winfrey
Run when you can, walk if you have to, crawl if you must; just never give up. Dean Karnazes
Only those who risk going too far, can possibly find out how far one can go. T.S. Elliot
A race is a work of art that people can look at and be affected in as many ways they're capable of understanding. Steve Prefontaine
Remember, the feeling you get from a good run is far better than the feeling you get from sitting around wishing you were running. Sarah Condor
Even if you're on the right track, you'll get run over if you just sit there. Will Rogers
It is a rough road that leads to the heights of greatness. Seneca
All great achievements require time. Maya Angelou
There is something magical about running; after a certain distance, it transcends the body. Then a bit further, it transcends the mind. A bit further yet, and what you have before you, laid bare, is the soul. Kristin Armstrong
Struggling and suffering are the essence of a life worth living. If you're not pushing yourself beyond the comfort zone, if you're not demanding more from yourself – expanding and learning as you go – you're choosing a numb existence. You're denying yourself an extraordinary trip. Dean Karnazes
We run when we're scared, we run when we're ecstatic, we run away from our problems and run around for a good time. Christopher McDougall
Running is that big question mark that's there each and every day. It asks, 'Are you going to be a wimp or are you going to be strong today?' Peter Maher
Go fast enough to get there, but slow enough to see. Jimmy Buffett
Relish the bad training runs. Without them it's difficult to recognize, much less appreciate, the good ones. Pat Teske
If you run, you are a runner. It doesn't matter how fast or how far. It doesn't matter if today is your first day or if you've been running for twenty years. There is no test to pass, no license to earn, no membership card to get. You just run. John Bingham
Strength does not come from physical capacity. It comes from an indomitable will. Mahatma Gandhi
Funny Running Quotes
A collection of funny and witty quotes to help you loosen up and start your day with a smile!  
Run in the morning … before your brain figures out what your body is doing! Unknown
You would run much slower if you were dragging something behind you, like a knapsack or a sheriff. Lemony Snicket
Good things come slow, especially in distance running. Bill Dellinger
There is magic in misery. Just ask any runner. Dean Karnazes
Our running shoes have magic in them. The power to transform a bad day into a good day; frustration into speed; self-doubt into confidence; chocolate cake into muscle. Mina Samuels
If you don't have answers to your problems after a four-hour run, you ain't getting them. Christopher McDougall
Try jogging when following your heart, it's healthier. Benny Bellamacina
A 12 minute mile is just as far as a 6 minute mile. Unknown
Some of the world's greatest feats were accomplished by people not smart enough to know they were impossible. Doug Larson
Running Motivational Quotes
If you need some extra boost the following quotes will energize you and help you unlock your true potential!  
Do a little more each day than you think you possibly can. Lowell Thomas
Mental will is a muscle that needs exercise, just like the muscles of the body. Lynn Jennings
The miracle isn't that I finished. The miracle is that I had the courage to start. John Bingham
The pain of running relieves the pain of living. Jacqueline Simon Gunn
What is the source of my success? I think it's a combination of consistency and balance. Mark Allen
A one hour run is 4% of your day. No excuses. Unknown
Success is no accident. It is hard work, perseverance, learning, studying, sacrifice and, most of all, love of what you are doing. Pele
Every marathon I ran, I knew I had a faster one in me. Dick Beardsley
I always tell my athletes, don't confuse difficulty with failure. Eric Orton
Run the first two-thirds of the race with your head and the last third with your heart. Unknown
I didn't feel like running today. Which is exactly why I went. Unknown
The miracle isn't that I finished. The miracle is that I had the courage to start. John Bingham
As athletes we have ups and downs. Unfortunately, you can't pick the days they come on. Leena Kastor
What I've learned from running is that the time to push hard is when you're hurting like crazy and you want to give up. Success is often just around the corner. James Dyson
We all have bad days and bad workouts, when running gets ugly, when split times seem slow, when you wonder why you started. It will pass. Hal Higdon
I hated every minute of training, but I said, "Don't quit. Suffer now and live the rest of your life as a champion. Muhammad Ali
Life Quotes About Running
There is so much more to running than meets the eye. Running helps you discover the beauty of life!
The obsession with running is really an obsession with the potential for more and more life. George Sheehan
Never underestimate the power that one good workout can have on your mind. Keeping the dream alive is half the battle. Kara Goucher
There's a great empowerment that I get from running, not only from the endorphins . . . Being a runner, to me, has made being depressed impossible. If ever I'm going through something emotional and just go outside for a run, you can rest assured that I'll come back with clarity and empowerment. Alanis Morissette
We are designed to run and we increase our chance of daily happiness when we do so. Jeff Galloway
Run like hell and get the agony over with. Clarence DeMar
Out on the roads, there is fitness and self-discovery and the persons we were destined to be. George Sheehan
The benefits and opportunities of running are available to anyone. You don't have to be born a natural athlete, and you don't have to be uniquely gifted. A life-shaping experience is there for the taking, waiting right outside your door. Donald Buraglio
If you become restless, speed up. If you become winded, slow down. You climb the mountain in an equilibrium between restlessness and exhaustion. Robert Pirsig
Don't fear moving slowly forward…fear standing still. Kathleen Harris
Patience is the key which solves all problems. Sudanese Proverb
Famous Quotes About Running
Scroll through the following list of thoughtful quotes from famous athletes and personalities and discover what they have to say about the beauty of running!
I always loved running…it was something you could do by yourself, and under your own power. You could go in any direction, fast or slow as you wanted, fighting the wind if you felt like it, seeking out new sights just on the strength of your feet and the courage of your lungs. Jesse Owens
Most people run a race to see who is fastest. I run a race to see who has the most guts. Steve Prefontaine
But I also realize that winning doesn't always mean getting first place; it means getting the best out of yourself. Meb Keflezighi
It's very hard in the beginning to understand that the whole idea is not to beat the other runners. Eventually you learn that the competition is against the little voice inside you that wants you to quit. Dr. George Sheehan
Every morning in Africa, a gazelle wakes up, it knows it must outrun the fastest lion or it will be killed. Every morning in Africa, a lion wakes up. It knows it must run faster than the slowest gazelle, or it will starve. It doesn't matter whether you're the lion or a gazelle-when the sun comes up, you'd better be running. Christopher McDougall, Born to Run
In running, it doesn't matter whether you come in first, in the middle of the pack, or last. You can say, 'I have finished.' There is a lot of satisfaction in that. Fred Lebow
People sometimes sneer at those who run every day, claiming they'll go to any length to live longer. But don't think that's the reason most people run. Most runners run not because they want to live longer, but because they want to live life to the fullest. Haruki Murakami, What I Talk About When I Talk About Running
I love running but I think you have to find a work out routine that really speaks to you beyond trying to get goals for your body. For me, running, I need it as much for my head and to clear my head as I do for keeping in shape. Meghan Markle
More Running Quotes
An interesting collection of thought provoking quotes to help you realize how running can be your path to a better life!
Run often. Run long. But never outrun your joy of running. Julie Isphording
I run because if I didn't, I'd be sluggish and glum and spend too much time on the couch. I run to breathe the fresh air. I run to explore. I run to escape the ordinary. I run…to savor the trip along the way. Life becomes a little more vibrant, a little more intense. I like that. Dean Karnazes, Ultramarathon Man
Every run is a work of art, a drawing on each day's canvas. Some runs are shouts and some runs are whispers. Some runs are eulogies and others celebrations. Dagny Scott Barrios
I always run without music. Being disconnected is what I'm addicted to more than anything. There aren't many places where you can be without your phone and computer. I've started to crave and enjoy that time alone. Christy Turlington
Running is the quickest endorphin hit I can get. I like to do it really early in the morning, before everyone gets up. It gives me a clear head and sort of resets the clock. It's like, 'OK, I got that out of the way. Now I can deal with people.' Julie Bowen
I like what it does for my mind. If I've had a bad day, if I'm feeling stressed out, if I'm feeling overwhelmed — it takes it all away. It's my antidote for everything. If I feel any sort of emotional upheaval, I go for a jog and I feel better. Kelly Ripa
It gave me a natural endorphin high, but it also helped me sleep, so it was perfect. It's easy to understand how people replace addiction with exercise. Eminem
It started to become what I looked forward to most; it was the only time I got to be in my own head. Rob Riggle
I often hear someone say I'm not a real runner. We are all runners, some just run faster than others. I never met a fake runner. Bart Yasso
Stadiums are for spectators. We runners have nature and that is much better. Juha Vaatainen
Running is so symbolic of life! Like a marathon race, life is about enduring the pain and the challenges in your path, never giving up and pushing yourself forward. No matter if you slow down your pace or pause for a moment, you never stop! In this race the only opponent is you and it is up to you to flesh out your dreams and make your life more vibrant! So lace up, get fired up and realize the essence of a life worth living!
If you like it, pin it!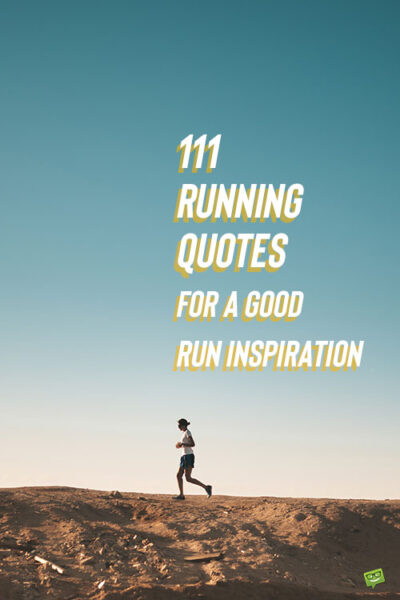 You May Also Like:
180+ Fired Up Fitness Quotes to Motivate You Before Your Workout Session
61 Motivational Sports Quotes to Inspire You and Boost Your Performance
54 Female Athletes Quotes About Women's Accomplishments