54 Famous Feminist Quotes to Support Women Empowerment
Since time immemorial, there have been numerous profound statements made about feminism. In support of women empowerment, we have compiled some of the most famous feminist quotes of all time for your reading pleasure.
As you feast your eyes on these memorable quotes, don't hesitate sharing those that appeal to you with your family, friends and the world at large.

---
Short Empowering Feminist Quotes
The most courageous act is to think for yourself. Aloud. Coco Chanel
You can waste your lives drawing lines. Or you can live your life crossing them. Shonda Rhimes
The most common way people give up their power is by thinking they don't have any. Alice Walker
Feminism is the radical notion that women are human beings.
I am not free while any woman is unfree, even when her shackles are very different from my own. A
If all men are born free, how is it that all women are born slaves? Mary Astell
Men are afraid that women will laugh at them. Women are afraid that men will kill them.
A feminist is anyone who recognizes the equality and full humanity of women and men. Gloria Steinem
The thing women have yet to learn is nobody gives you power. You just take it. Roseanne Barr
I myself have never been able to find out precisely what a feminist is. I only know that people call me a feminist whenever I express sentiments that differentiate me from a doormat. Rebecca West
I am a Woman Phenomenally. Phenomenal Woman, that's me. Maya Angelou It needs to be said and heard: It's okay to be who you are. Hailee Steinfeld
I don't have to be perfect. All I have to do is show up and enjoy the messy, imperfect, and beautiful journey of my life. Kerry Washington
If any female feels she needs anything beyond herself to legitimate and validate her existence, she is already giving away her power to be self-defining, her agency. Bell Hooks
I'm not going to limit myself just because people won't accept the fact that I can do something else. Dolly Parton
Women are complicated. Women are multifaceted. Not because women are crazy. But because people are crazy, and women happen to be people. Tavi Gevinson
It needs to be said and heard: It's okay to be who you are. Hailee Steinfeld
The most effective way to do it, is to do it. Amelia Earhart
I hate to hear you talk about all women as if they were fine ladies instead of rational creatures. None of us want to be in calm waters all our lives. Jane Austen
I myself have never been able to find out precisely what a feminist is. I only know that people call me a feminist whenever I express sentiments that differentiate me from a doormat. Rebecca West
Of course I am not worried about intimidating men. The type of man who will be intimidated by me is exactly the type of man I have no interest in. Chimamanda Ngozi Adi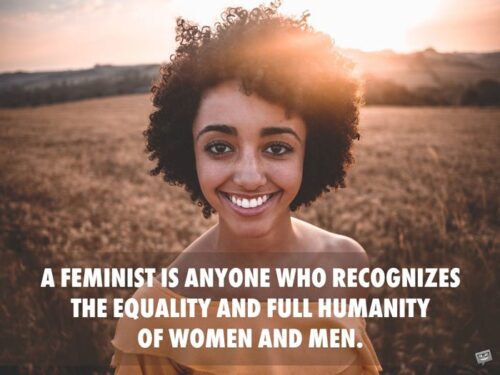 Insightful Feminist Quotes
The beauty myth is actually prescribing behavior and not appearance.
No one is more arrogant toward women, more aggressive or scornful, than the man who is anxious about his virility.
A beautiful woman looking at her image in the mirror may very well believe the image is herself. An ugly woman knows it is not.
Life is not about living the safer option. Life is about living a life worth living.
It's not my responsibility to be beautiful. I'm not alive for that purpose. My existence is not about how desirable you find me.
What is feminism? Simply the belief that women should be as free as men, however nuts, dim, deluded, badly dressed, fat, receding, lazy and smug they might be. Are you a feminist? Hahaha. Of course you are.
Inspirational Feminist Quotes
Each time a woman stands up for herself, without knowing it possibly, without claiming it, she stands up for all women.
Equality is not a concept. It's not something we should be striving for. It's a necessity. Equality is like gravity. We need it to stand on this earth as men and women, and the misogyny that is in every culture is not a true part of the human condition. It is life out of balance, and that imbalance is sucking something out of the soul of every man and woman who's confronted with it. We need equality. Kinda now.
It is easier to live through someone else than to complete yourself. The freedom to lead and plan your own life is frightening if you have never faced it before. It is frightening when a woman finally realizes that there is no answer to the question 'who am I' except the voice inside herself.
Responsibility to yourself means refusing to let others do your thinking, talking, and naming for you; it means learning to respect and use your own brains and instincts; hence, grappling with hard work.
Anything may happen when womanhood has ceased to be a protected occupation.
Female friendships that work are relationships in which women help each other belong to themselves.
It is always painful to set one's self against tradition, especially against the conventions & prejudices that hedge about womanhood.
Poetic Feminist Quotes
Usually when you see females in movies, they feel like they have these metallic structures around them, they are caged by male energy.
Women have served all these centuries as looking glasses possessing the magic and delicious power of reflecting the figure of man at twice its natural size.
One life is all we have and we live it as we believe in living it. But to sacrifice what you are and to live without belief, that is a fate more terrible than dying.
…her wings are cut and then she is blamed for not knowing how to fly.
Witty Feminist Quotes
I think being a woman is like being Irish… Everyone says you're important and nice, but you take second place all the time.
Know what? Bitches get stuff done. Tina Fey
Good girls go to heaven and bad girls go everywhere.
Whatever women do they must do twice as well as men to be thought half as good. Luckily, this is not difficult.
When God made man she was practicing.
A woman is like a tea bag. You never know how strong she is until she gets in hot water. Eleanor Roosevelt
Feminist Quotes by Famous Men
Many of my movies have strong female leads- brave, self-sufficient girls that don't think twice about fighting for what they believe with all their heart. They'll need a friend, or a supporter, but never a savior. Any woman is just as capable of being a hero as any man.
Men are from Earth, women are from Earth. Deal with it.
All men should be feminists. If men care about women's rights, the world will be a better place. We are better off when women are empowered. John Legend
Real men treat women with dignity and give them the respect they deserve. Prince Harry
Male domination is so rooted in our collective unconscious that we no longer even see it.
When we were only acquaintances, you let me be myself, but now you're always protecting me… I won't be protected. I will choose for myself what is ladylike and right. To shield me is an insult. Can't I be trusted to face the truth but I must get it second-hand through you? A woman's place!
A woman should have every honorable motive to exertion which is enjoyed by man, to the full extent of her capacities and endowments. The case is too plain for argument. Nature has given woman the same powers, and subjected her to the same earth, breathes the same air, subsists on the same food, physical, moral, mental and spiritual. She has, therefore, an equal right with man, in all efforts to obtain and maintain a perfect existence. Frederick Douglass
Long Feminist Quotes
We teach girls to shrink themselves, to make themselves smaller. We say to girls, you can have ambition, but not too much. You should aim to be successful, but not too successful. Otherwise, you would threaten the man. Because I am female, I am expected to aspire to marriage. I am expected to make my life choices always keeping in mind that marriage is the most important. Now marriage can be a source of joy and love and mutual support but why do we teach girls to aspire to marriage and we don't teach boys the same? We raise girls to see each other as competitors not for jobs or accomplishments, which I think can be a good thing, but for the attention of men. We teach girls that they cannot be sexual beings in the way that boys are.
We need to reclaim the word 'feminism'. We need the word 'feminism' back real bad. When statistics come in saying that only 29% of American women would describe themselves as feminist – and only 42% of British women – I used to think, What do you think feminism IS, ladies? What part of 'liberation for women' is not for you? Is it freedom to vote? The right not to be owned by the man you marry? The campaign for equal pay? 'Vogue' by Madonna? Jeans? Did all that good shit GET ON YOUR NERVES? Or were you just DRUNK AT THE TIME OF THE SURVEY?
I myself cried when I got angry, then became unable to explain why I was angry in the first place. Later I would discover this was endemic among female human beings. Anger is supposed to be "unfeminine" so we suppress it -until it overflows. I could see that not speaking up made my mother feel worse. This was my first hint of the truism that depression is anger turned inward; thus women are twice as likely to be depressed. My mother paid a high price for caring so much, yet being able to do so little about it. In this way, she led me toward am activist place where she herself could never go.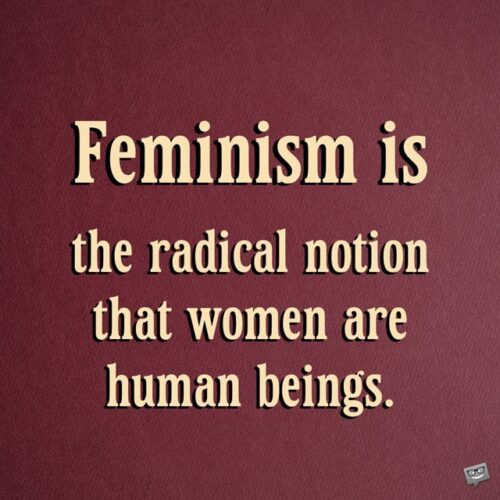 ---
You may also like:
International Women's Day Quotes | Girl Power
131 Audre Lorde Quotes That Continue To Make a Difference
"Never Give Up" | Famous and Original Quotes
On Empowerment and Vision | 10 Paintings for International Women's Day