45+ Post Malone Quotes On Love, Success and Having Fun
Post Malone is an American rapper, singer, and songwriter, known for his unique way to mix different music genres and bringing high fashion into the hoodie-dominated rapper's world. The following Post Malone quotes will let you delve into his messages of love and life.
Post Malone attained recognition in 2015 when his single White Iverson peaked at number 14 on the US Billboard Hot 100. Soon, he signed a contract with the label Republic Records and released the album Stoney in 2016. The album became his golden ticket to the Billboard Top R&B/Hip-Hop Albums chart, where it stayed for 77 weeks. The success was undeniable, even though Post Malone often mentions that not many people had faith in him in the begging of his career. In his songs, Malone manages to marry perfectly melodic hip-hop and cheerful pop, along with trap and rap. In his lyrics, he talks about success and having fun, but at the same time, he somehow has also conquered the title of the heart-breaking expert.
In the list below we invite you to witness the romantic soul of the tattoo-covered artist, with love quotes that will make you wonder if these are indeed rap songs. Of course, further down, you will get inspirational song quotes and funny quotes from various interviews he has given in the past.
Table of Contents
Post Malone Love quotes
You're the sunflower, I think your love would be too much. Post Malone
The right person by your side will have you saving money, living better, making moves, and laughing constantly. Post Malone
Every time we make up, the truth is fading. Everybody's blind when the view's amazing. Post Malone
Tell me is that deja vu? 'Cause you want me and I want you. Post Malone
You know I say that I am better now. I only say that 'cause you're not around. Post Malone
Too much pleasure is pain. Post Malone
I'm here, but don't count on me to stay. Post Malone
She fooled me twice and it's all my fault. Post Malone
You stuck in the friend zone, I tell that four-five the fifth, ayy. Post Malone
Run away, but we're running in circles. Post Malone
I'm tryna see you from my own perspective. Post Malone
The feeling we catching, my love is a blessing. Post Malone
It was love at first sight, felt like you were chosen. Post Malone
Seasons change and our love went cold. Feed the flame 'cause we can't let it go. Post Malone
Never caught a feelin' this hard. Harder than the liquor I pour. Post Malone
I felt special. Until I realized you talk to everybody like that. Post Malone
No it ain't nothin' fickle for me to forget that you ever exist. Post Malone
Sorry that you can't get over me. Now you're out my life I'm so relieved. Post Malone
Can we have a little conversation? Figure it out with no intoxication. We carry on, what is our motivation? We're never wrong, how the hell we gonna make it? Post Malone
Song Lyrics quotes by Post Malone
They told me to quit, I don't listen to what I'm told. Post Malone
I aint rolling the dice. I aint playing to lose. Post Malone
Worked so hard, forgot how to vacation. Post Malone
They said I wouldn't be nothing. Now they always say congratulations. Post Malone
Everybody say that I gotta be stopped. Even though my final form ain't unlocked. Post Malone
If you keep starin' at the sun you won't see what you have become. Post Malone
I'm the answer, never question. Post Malone
I saw myself in a different light. Post Malone
Pour that drink 'cause we ain't sleepin' tonight. Post Malone
We couldn't turn around 'til we were upside down. Post Malone
Wasted on Sunday. Erase you on Monday. Post Malone
And I ain't seen a light of day since, well, that's not important. Post Malone
Because no matter how my life has changed. I keep on looking back on better days. Post Malone
Used to have friends now I got enemies. Used to keep them close now they dead to me. Post Malone
Never let that money change me. Post Malone
Spendin', I'm spendin' all my f****n' pay. Post Malone
I had a thousand bad times so what's another time to me? Post Malone
And if everything gone bad, we gon' make it alright. Post Malone
What have you taken? Like someone hurt you. You drink that mixture, that shit gon' hit you. No, I can't fix you. Post Malone
Slaved for the man and I broke my f****n' back. So you can take your nine-to-five and shove it up you're a**. Post Malone
Can't really trust nobody with all this jewelry on you. Post Malone
Now you want my chain and my jeans but you no good at chemistry. Post Malone
Funny Post Malone Quotes
I'll do anything to piss my mum off. I've got a face for radio anyways. Post Malone
I've had my fair share of kids used to throw gum in my hair. Look at me now M*****f*****, I'm eating very hot wings. Post Malone
Just cuz I don't have a frat boy haircut and don't wear what y'all like, don't mean I stink. Post Malone
The old country singers, they were badass, they were the American badass people. I'm an American badass. At 40 years old, I'm gonna be a country singer. Post Malone
It has been wild, you know, I started out just putting a song that I made out on the internet without being sure if anyone was going to like it and it took me on tour around the world with Justin Bieber, it's been amazing! Post Malone
If you don't like it, don't f***ing listen to it. Post Malone
If you like it, pin it!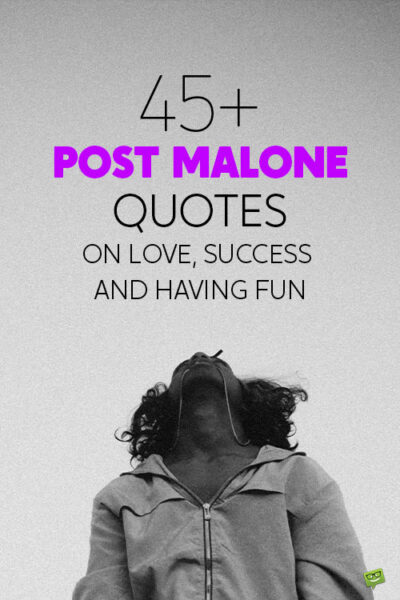 You may also like:
40+ Genuine Quotes about Life and Love by Kid Cudi
55+ Drake Quotes About Love, Life, Success and Confidence
62 Quotes from The Weeknd's Songs and Interviews