Words of a Visionary | Isaac Asimov Quotes
Isaac Asimov, an American writer and professor of biochemistry at Boston University, wrote hard science fiction and was considered one of the "Big Three" science fiction writers during his lifetime. Along with such figures as Bertrand Russell and Karl Popper, Asimov left his mark as one of the most distinguished interdisciplinarians of the 20th century, having written around 500 books that were used as an example by many other writers.
Our collection of quotes by Isaac Asimov covers the huge range of his interests, touching anything from everyday human life to the colonization of space. Even though Asimov died in 1992 at 72, his words have never lost their value, sign of a genuine thinker.
---
In life, unlike chess, the game continues after checkmate.
Violence is the last refuge of the incompetent.
People think of education as something they can finish.
The saddest aspect of life right now is that science gathers knowledge faster than society gathers wisdom.
If knowledge can create problems, it is not through ignorance that we can solve them.
Self-education is, I firmly believe, the only kind of education there is.
It has been my philosophy of life that difficulties vanish when faced boldly.
There never can be a man so lost as one who is lost in the vast and intricate corridors of his own lonely mind, where none may reach and none may save.
To succeed, planning alone is insufficient. One must improvise as well.
There are no happy endings in history, only crisis points that pass.
We're forever teetering on the brink of the unknowable, and trying to understand what can't be understood.
The true delight is in the finding out rather than in the knowing.
Individual science fiction stories may seem as trivial as ever to the blinder critics and philosophers of today, but the core of science fiction — its essence — has become crucial to our salvation, if we are to be saved at all.
Anti-intellectualism has been a constant thread winding its way through our political and cultural life, nurtured by the false notion that democracy means that 'my ignorance is just as good as your knowledge.'
Human beings sometimes find a kind of pleasure in nursing painful emotions, in blaming themselves without reason or even against reason.
You show me someone who can't understand people and I'll show you someone who has built up a false image of himself.
The colonization of space is the only possible salvation of Earth.
An individual life is one thread in the tapestry and what is one thread compared to the whole?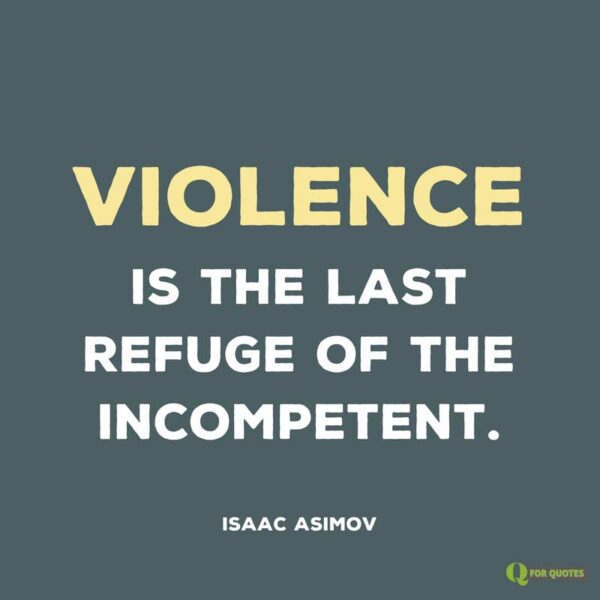 Witty Quotes by Isaac Asimov
Those people who think they know everything are a great annoyance to those of us who do.
I am not a speed reader. I am a speed understander.
The easiest way to solve a problem is to deny it exists.
It pays to be obvious, especially if you have a reputation for subtlety.
All the hundreds of millions of people who, in their time, believed the Earth was flat never succeeded in unrounding it by an inch.
It was childish to feel disappointed, but childishness comes almost as naturally to a man as to a child.
Any book worth banning is a book worth reading.
I believe that only scientists can understand the universe. It is not so much that I have confidence in scientists being right, but that I have so much in nonscientists being wrong. 

Any planet is 'Earth' to those that live on it.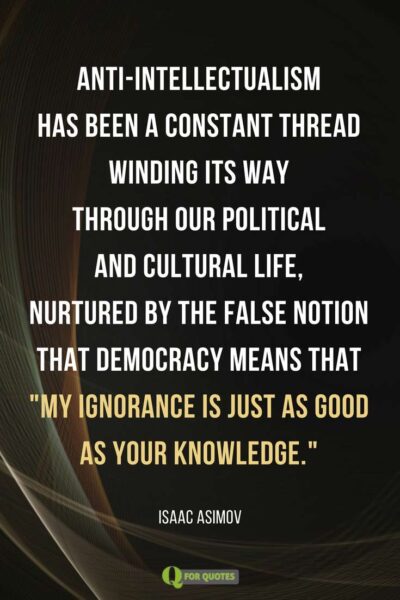 Long Quotes by Isaac Asimov
You must keep sending work out; you must never let a manuscript do nothing but eat its head off in a drawer. You send that work out again and again, while you're working on another one. If you have talent, you will receive some measure of success – but only if you persist.
Old men tend to forget what thought was like in their youth; they forget the quickness of the mental jump, the daring of the youthful intuition, the agility of the fresh insight. They become accustomed to the more plodding varieties of reason, and because this is more than made up by the accumulation of experience, old men think themselves wiser than the young.
The fall of Empire, gentlemen, is a massive thing, however, and not easily fought. It is dictated by a rising bureaucracy, a receding initiative, a freezing of caste, a damming of curiosity—a hundred other factors. It has been going on, as I have said, for centuries, and it is too majestic and massive a movement to stop.
I received the fundamentals of my education in school, but that was not enough. My real education, the superstructure, the details, the true architecture, I got out of the public library. For an impoverished child whose family could not afford to buy books, the library was the open door to wonder and achievement, and I can never be sufficiently grateful that I had the wit to charge through that door and make the most of it. Now, when I read constantly about the way in which library funds are being cut and cut, I can only think that the door is closing and that American society has found one more way to destroy itself.
They won't listen. Do you know why? Because they have certain fixed notions about the past. Any change would be blasphemy in their eyes, even if it were the truth. They don't want the truth; they want their traditions.
Isn't it sad that you can tell people that the ozone layer is being depleted, the forests are being cut down, the deserts are advancing steadily, that the greenhouse effect will raise the sea level 200 feet, that overpopulation is choking us, that pollution is killing us, that nuclear war may destroy us – and they yawn and settle back for a comfortable nap. But tell them that the Martians are landing, and they scream and run.
I believe in evidence. I believe in observation, measurement, and reasoning, confirmed by independent observers. I'll believe anything, no matter how wild and ridiculous, if there is evidence for it. The wilder and more ridiculous something is, however, the firmer and more solid the evidence will have to be.
It is change, continuing change, inevitable change, that is the dominant factor in society today. No sensible decision can be made any longer without taking into account not only the world as it is, but the world as it will be…This, in turn, means that our statesmen, our businessmen, our everyman must take on a science fictional way of thinking.
Even as a youngster, though, I could not bring myself to believe that if knowledge presented danger, the solution was ignorance. To me, it always seemed that the solution had to be wisdom. You did not refuse to look at danger, rather you learned how to handle it safely.
How often people speak of art and science as though they were two entirely different things, with no interconnection. An artist is emotional, they think, and uses only his intuition; he sees all at once and has no need of reason. A scientist is cold, they think, and uses only his reason; he argues carefully step by step, and needs no imagination. That is all wrong. The true artist is quite rational as well as imaginative and knows what he is doing; if he does not, his art suffers. The true scientist is quite imaginative as well as rational, and sometimes leaps to solutions where reason can follow only slowly; if he does not, his science suffers.
Today, what people call learning is forced on you. Everyone is forced to learn the same thing on the same day at the same speed in class. But everyone is different. For some, class goes too fast, for some too slow, for some in the wrong direction. But give everyone a chance, in addition to school, to follow up their own bent from the start, to find out about whatever they're interested in by looking it up in their own homes, at their own speed, in their own time, and everyone will enjoy learning.
Life is not like a murder mystery. In mysteries people always do the same thing. Then when some little thing is out of line, some wise-guy amateur detective makes big deductions. In real life, people don't do the same things all the time. They do different things at different times. In real life, people are crazy. Isaac Asimov
Isaac Asimov's "Three Laws of Robotics"A robot may not injure a human being or, through inaction, allow a human being to come to harm.
A robot must obey orders given it by human beings except where such orders would conflict with the First Law.
A robot must protect its own existence as long as such protection does not conflict with the First or Second Law.
---
https://www.youtube.com/watch?v=LsZNx1YlVww
---
You may also like:
Albert Einstein's Most Inspiring Quotes
Short and Meaningful Life Quotes
Quotes About Education
Wise Words as Life Lessons | Inspirational Quotes for a Better World