80+ Lady Gaga Quotes That Will Inspire You To Be Yourself
Lady Gaga is one of the most outstanding and influential figures of the pop culture of the 21st century. Her immersive talent has brought her an Oscar, a dozen of Grammys, and other significant nominations and awards. Since her statements always have an impact, we couldn't but go on and craft a list with the most iconic, meaningful and whimsical Lady Gaga quotes.
A fierce advocate of political correctness, social justice and supporter of the LGBTQIA+ community, she is never afraid to speak her truth. At the same time, in her interviews she raises awareness about mental health, while she has referred to her own personal struggle with anxiety and depression. Lady Gaga introduced herself in the audience in 2008 with the album The Fame, while in 2019 she made her debut as a leading character in the movie a Star is Born with Bradley Cooper.
Empowering and motivating, the quotes below will encourage you to accept your real self, engage your uniqueness and don't let anybody make you believe that you are less than a star on the rise.

Best Lady Gaga Quotes
You have to be unique, and different, and shine in your own way. Lady Gaga
I allow myself to fail. I allow myself to break. I'm not afraid of my flaws. Lady Gaga
They can't scare me, if I scare them first. Lady Gaga
I'm drawn to bad romances. Lady Gaga
As artists, we are eternally heartbroken. Lady Gaga
Being gay is like glitter, it never goes away. Lady Gaga
It's always wrong to hate, but it's never wrong to love. Lady Gaga
Love is like a brick. You can build a house, or you can sink a dead body. Lady Gaga
Trust is like a mirror, you can fix it if it's broken, but you can still see the crack in the reflection. Lady Gaga
I don't want the 5 dollars in your pocket, I want your soul. Lady Gaga
I'm obsessively opposed to the typical. Lady Gaga
For being different, it's easy. But to be unique, it's a complicated thing. Lady Gaga
I don't want to make money; I want to make a difference. Lady Gaga
You define beauty yourself, society doesn't define your beauty. Your spirit and your faith define your beauty. Lady Gaga
At the end of the day, you won't be happy until you love yourself. Lady Gaga
You have to stop crying, and you have to go kick some ass. Lady Gaga
We need fantasy to survive because reality is too difficult. Lady Gaga
Ignore all hatred and criticism. Live for what you create, and die protecting it. Lady Gaga
I'm half living my life between reality and fantasy at all times. Lady Gaga
Do you know the feeling, when your heart is so hurt, that you could feel the blood dripping? Lady Gaga
If you don't have any shadows, you're not in the light. Lady Gaga
Well, that's your opinion, isn't it? And I'm not about to waste my time trying to change it. Lady Gaga
You will never find what you are looking for in love, if you don't love yourself. Lady Gaga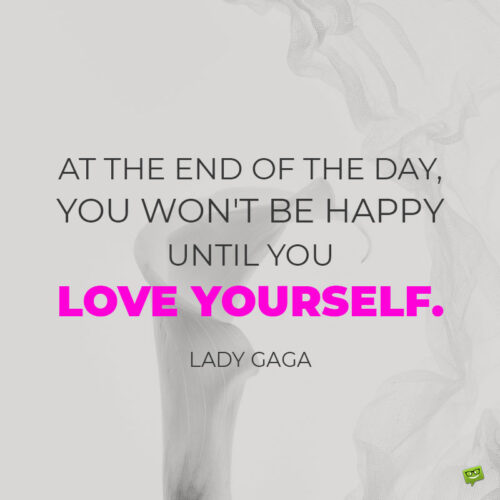 Lady Gaga's Inspirational Quotes on Life
Do not allow people to dim your shine because they are blinded. Tell them to put some sunglasses on. Lady Gaga
Never be afraid to be kicked in the teeth. Let the blood and the bruises define your legacy. Lady Gaga
Vanity can create a very cruel space for you if you don't know how to manage it. Lady Gaga
Don't you ever let a soul in the world tell you that you can't be exactly who you are. Lady Gaga
Even if the whole world turns their back on you, you'll always have yourself. Lady Gaga
People will always talk, so let's give them something to talk about. Lady Gaga
I think tolerance and acceptance and love is something that feeds every community. Lady Gaga
I've been searching for ways to heal myself, and I've found that kindness is the best way. Lady Gaga
We are not actually equal – humanity – if we are not allowed to freely love one another. Lady Gaga
I am my own sanctuary and I can be reborn as many times as I choose throughout my life. Lady Gaga
Why spend your whole life trying to be somebody that you're not? It's so much more fun to be yourself. Lady Gaga
Fight and push harder for what you believe in, you'd be surprised, you are much stronger than you think. Lady Gaga
I remember watching the mascara tears flood the ivories and I thought, "It's OK to be sad." I've been trained to love my darkness. Lady Gaga
It doesn't matter who you are, or where you come from, or how much money you've got in your pocket. You have your own destiny and your own life ahead of you. Lady Gaga
I want people to walk around delusional about how great they can be – and then to fight so hard for it every day that the lie becomes the truth. Lady Gaga
All that ever holds somebody back, I think, is fear. For a minute I had fear. [Then] I went into the [dressing] room and shot my fear in the face. Lady Gaga
When you make music or write or create, it's really your job to have mind-blowing, irresponsible, condomless sex with whatever idea it is you're writing about at the time. Lady Gaga
Some women choose to follow men, and some women choose to follow their dreams. If you're wondering which way to go, remember that your career will never wake up and tell you that it doesn't love you anymore. Lady Gaga
You have to be the antithesis of the status quo. You have to work against it. It's not about a reaction. You don't need to react to anything. We need to be proactive in our own movement of positivity. Lady Gaga
I want women — and men — to feel empowered by a deeper and more psychotic part of themselves. The part they're always trying desperately to hide. I want that to become something that they cherish. Lady Gaga
Lady Gaga's Song Quotes
Don't be a drag, just be a queen. Lady Gaga
I'm on the right track baby, I was born to be brave! Lady Gaga
Step into the room like it's a catwalk. Lady Gaga
I want your love, and all your lover's revenge. You and me could write a bad romance. Lady Gaga
It wasn't love. It was a perfect illusion. Lady Gaga
Tell me something, boy. Aren't you tired tryin' to fill that void? Lady Gaga
Don't hide yourself in regret, just love yourself, and you're set. Lady Gaga
I don't need to be on top to know I'm worth it. Lady Gaga
I'm a free bitch baby! Lady Gaga
If you're a strong female, you don't need permission. Lady Gaga
I want your whiskey mouth all over my blonde south. Lady Gaga
I'm your biggest fan, I'll follow you until you love me. Lady Gaga
You taste just like glitter mixed with rock 'n' roll. Lady Gaga
Pack your bags and we can chase the sunset. Lady Gaga
Don't tell me I'm less than my freedom. Lady Gaga
Let's have some fun this beat is sick, I wanna take a ride on your disco stick. Lady Gaga
Don't wanna kiss, don't wanna touch, just smoke my cigarette, hush. Lady Gaga
I'm on the edge of glory, and I'm hanging on a moment with you. Lady Gaga
So baby raise a glass to mend all the broken hearts of all my wrecked up friends. Lady Gaga
I don't wanna be alone forever, but I love gypsy life. Lady Gaga
Each day, I cry. Oh, I feel so low from living high. Lady Gaga
I don't wanna be alone forever, maybe we can see the world together. Lady Gaga
Cause it's a hard life, with love in the world. and I'm a hard girl, loving me is like chewing on pearls. Lady Gaga
I'm off the deep end, watch as I dive in, I'll never meet the ground. Crash through the surface, where they can't hurt us, we're far from the shallow now. Lady Gaga
But all I really know, you're where I wanna go. The part of me that's you will never die. Lady Gaga
I've got a hundred million reasons to walk away. But baby, I just need one good one to stay. Lady Gaga
We got a whole lot of money but we still pay rent, 'cause you can't buy a house in heaven. Lady Gaga
You're the medicine I need to heal the way you make me feel. Lady Gaga
I won't tell you that I love you, kiss or hug you 'cause I'm bluffin' with my muffin. Lady Gaga
There's no love song finer, but how strange the change from major to minor ev'ry time we say goodbye. Lady Gaga
I wanna sing you a sunrise and be the dawn I know will move you. Lady Gaga
Funny Lady Gaga Quotes
And now, I'm just trying to change the world, one sequin at a time. Lady Gaga
I've always been famous, it's just no one knew it yet. Lady Gaga
Because the sweeter the cake, the more bitter the jelly can be. Lady Gaga
Live your eyeliner, breathe your lipstick, and kill for each other. Lady Gaga
I'm a little bit naked, but that's okay. Lady Gaga
You shouldn't have to have money to have a luxury fragrance. Lady Gaga
The dieting wars have got to stop. Lady Gaga
I want a baby from an Italian – possibly Sicilian – donor. Lady Gaga
My apartment is my stage, and my bedroom is my stage – they're just not stages you're allowed to see. Lady Gaga
If you like it, pin it!
You May Also Like:
62 Quotes from The Weeknd's Songs and Interviews
52 Introspective Lana Del Rey Quotes About Love and Life
84 Dolly Parton Quotes About Revolutions in Music and Society