Divine Wisdom and Strength | 29 Bible Quotes to Encourage and Motivate
When it comes to finding courage and strength in hard times, the Holy Bible is the absolute resource of pure everlasting wisdom. Through its verses, Christians can find strength, wisdom, and guidance to help them go through any everyday obstacle.
In order to provide you with material of true biblical encouragement, we have created this collection of the best Bible quotes that will empower your faith.
---
1.
When the righteous cry for help, the Lord hears, and rescues them from all their troubles. Psalm 34:17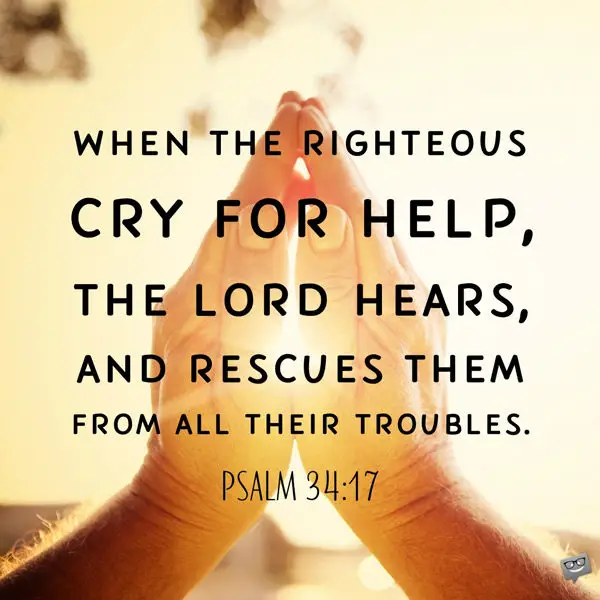 ---
2.
Our faith can move mountains. Matthews 17:20
---
3.
God promises to make something good out of the storms that bring devastation to your life. Romans 8:28
---
4.
A friend loves at all times, and a brother is born for a time of adversity. Proverbs 17:177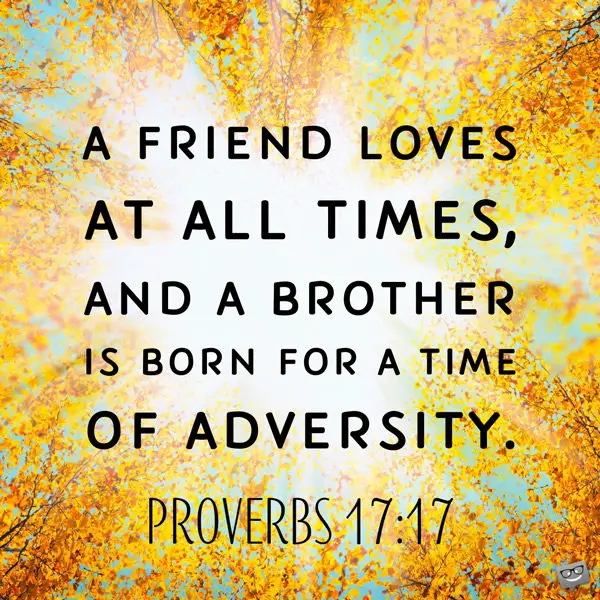 ---
5.
With God all things are possible. Matthew 19:26.
---
6.
Give thanks to the Lord for he is good; His love endures forever. Psalm 107:1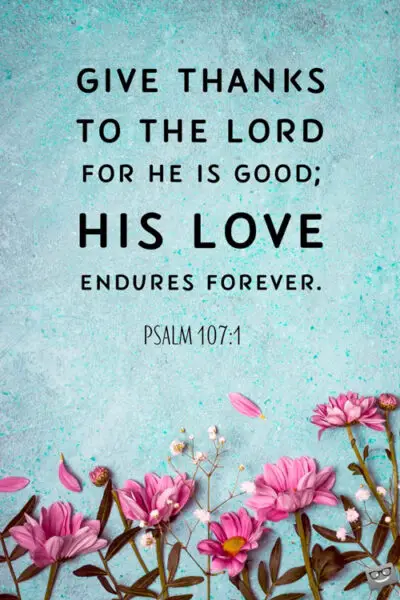 ---
7.
God is faithful, and he will not let you be tested beyond your strength. Corinthians 10:12
---
8.
I loved you at your darkest. Romans 5:8
---
9.
When you are harvesting in your field and you overlook a sheaf, do not go back to get it.
Leave it for the foreigner, the fatherless and the widow, so that the Lord your God
may bless you in all the work of your hands. Deuteronomy 24:19
---
10.
Do not judge, or you too will be judged.
For in the same way you judge others, you will be judged,
and with the measure you use, it will be measured to you. Matthew 7:1-2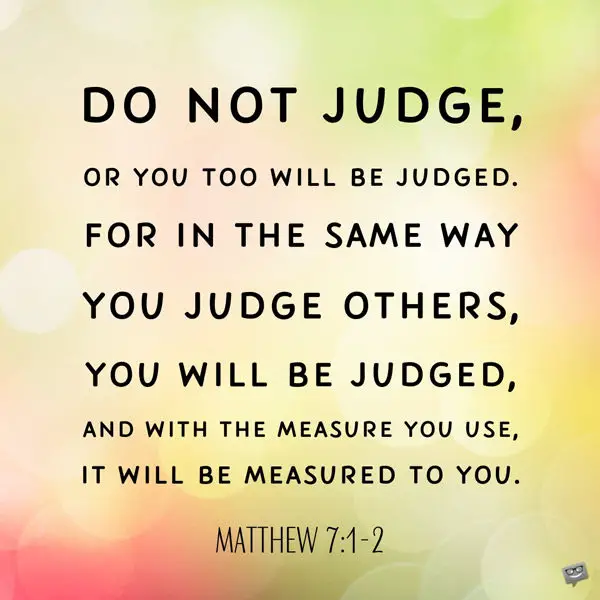 ---
11.
I can do all things through Him who strengthens me. Philippians 4:13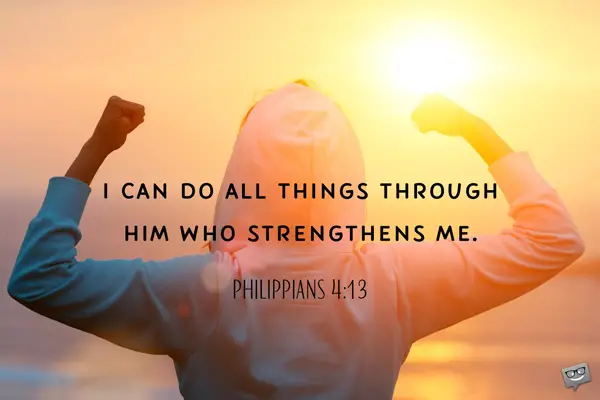 ---
12.
But the Lord stood with me and gave me strength. Timothy 4:17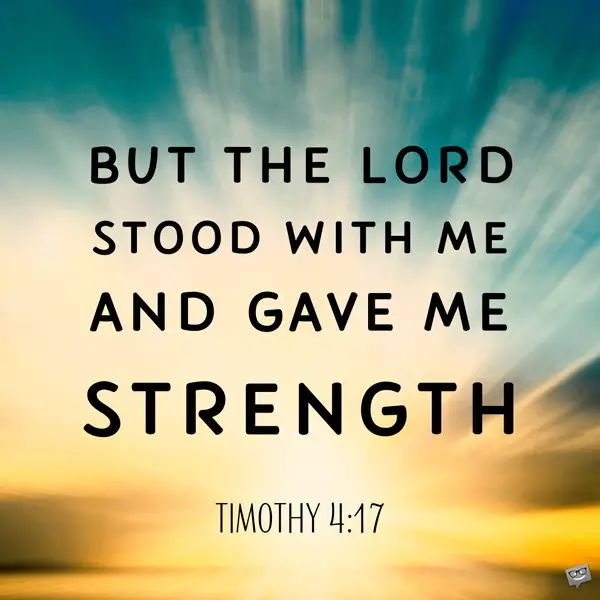 ---
13.
Give thanks to the Lord for He is good; His love endures forever. Psalm 107:1
---
14.
The Lord is my strength and my shield: my heart trusts in Him, and I am helped.
My heart leaps for joy and I will give thanks to Him in Song. Psalm 28:7
---
15.
For the Lord takes delight in his people: He crowns the humble with salvation. Psalm 149:4
---
16.
Let all that you do be done in love. Corinthians 16:14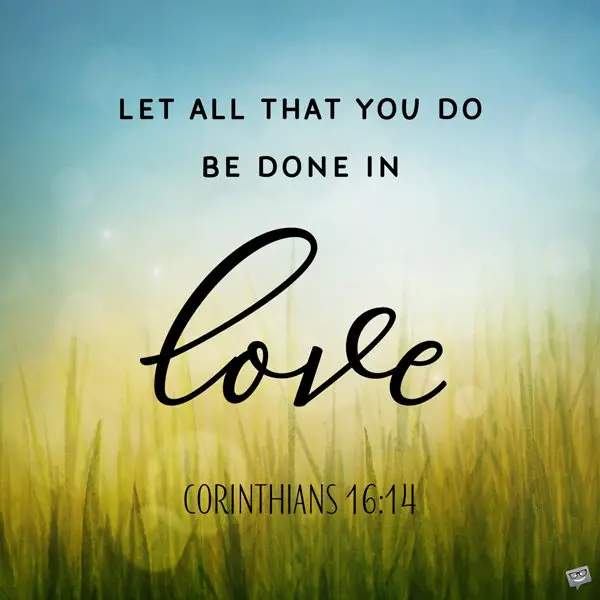 ---
17.
If any of you lacks wisdom, you should ask God, who gives generously to all
without finding fault, and it will be given to you. James 1:5
---
18.
In this world you will have trouble, but be brave! I have defeated the world. John 16:33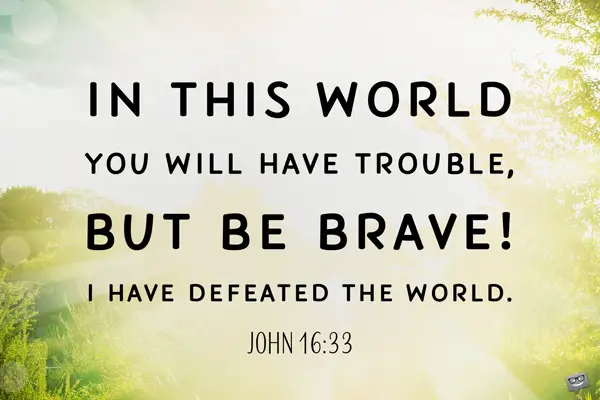 ---
19.
God is with you. Wherever you may god and no matter what life brings. Joshua 1:9
---
20.
It is God who arms me with strength and keeps my way secure. Psalm 18:32
---
21.
The Lord is my light and my salvation, whom shall I fear?
The Lord is the stronghold of my life, of whom shall I be afraid? Psalm 27:12
---
22.
Under his wings you will find refuge. Psalm 91:4
---
23.
I am the way and the truth and the Life. No one comes to the Father except through me. John 14:6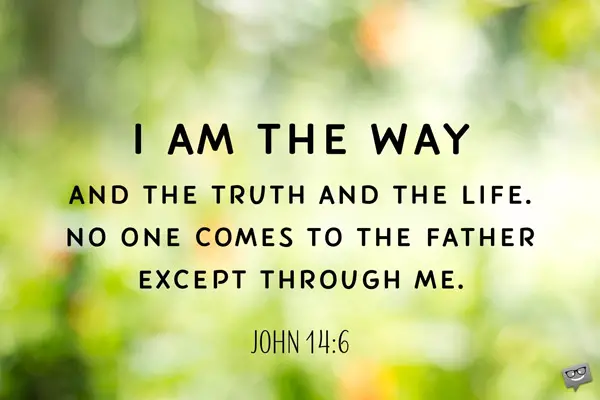 ---
24.
The Lord will fight for you, you need only to be still. Exodus 14:14
---
25.
If God is for us, who is against us? He who did not withhold His own Son,
but gave Him up for all of us, will He not with Him also give us everything else? Romans 8:31-32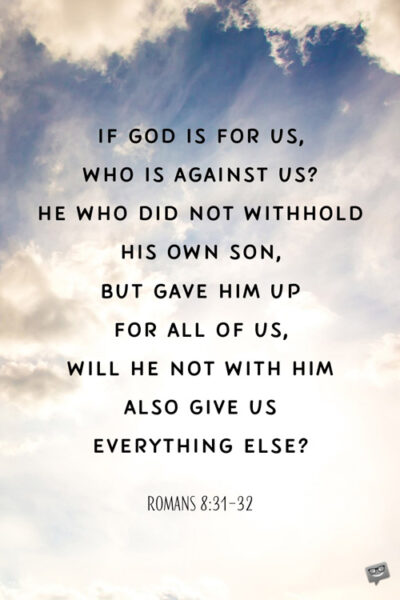 ---
26.
And the world became flesh and lived among us. John 1:14
---
27.
But they who wait for the Lord shall renew their strength, they shall mount up with wings like eagles,
the shall run and not be weary, they shall walk and not faint. Isaiah 40:31
---
28.
It is God who arms me with strength and keeps my way secure. Psalm 18:32
---
29.
Whenever you feel unloved, unimportant, or insecure, remember to whom you belong. Ephesians 2:19-22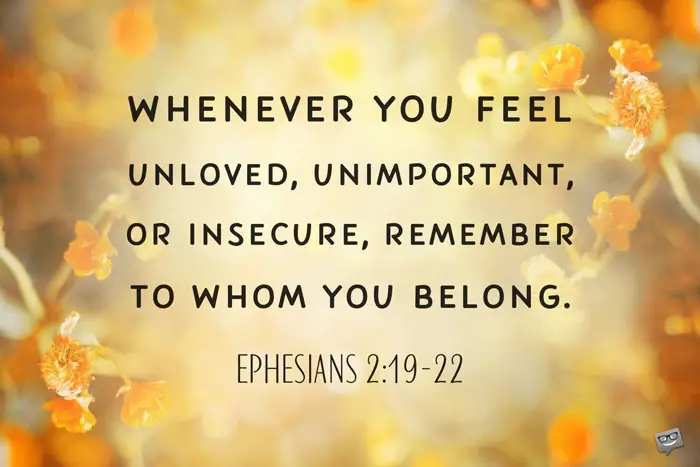 ---
A Great Addition To Your Library
---
You may also like:
Inspiring Bible Verses for Those Celebrating Their Birthday
Get on the Right Track | Fresh Inspirational Good Morning Quotes for the Day
Inspiring Good Morning Prayers, Blessings and Verses from the Bible