100+ New Year Quotes About Positive Change and Fresh Beginnings
It is as exciting and colorful every year. That special moment the clock hits midnight is full of promise and hope. New year's day or eve, is very special worldwide and for everyone. It is the symbol of a better tomorrow, the belief and anticipation of being better people with each other, with friends, family, in personal relationships and for many, it's the needed wake up call to be done with the past and start fresh with the future. There is no stronger second than that specific one to be decisive. From the youngest to the oldest and the most famous Hollywood movie star to the girl in the bakery down the street, everybody sees eye to eye on this.
Some celebrate by honoring old traditions of banging pots and pans, singing Auld Lang Syne or lighting fireworks and gathering in major cities around the world. However, which ever way one chooses, they all have one thing at heart, it may be a resolution, another option, a happier and lovelier self, a change or a different breath of air. Yes, it is all possible! Anything is once you set your mind to it, especially on New year's. Read on to find an amazing selection of quotes by some of the most renowned individuals such as poets, authors, actors and more to inspire and motivate you, friends and loved ones. It's never just a new calendar year, it's what you want it to be.

Short New Year Quotes to Reflect upon New Beginnings
Every New Year is a milestone in our lives – a time to make a review of the past and plan ahead for the future. Pick a quote a day that resonates with you and write it down!
Inspirational New Year Quotes to Get Prepared for a Substantial Change in your Life
Here are some inspiring quotes on how to change ourselves and our lives to the better: It is important to proceed with our heart – in Truth, Faith and Trust, with Kindness and Respect.
Motivational New Year Quotes to Make a Fresh Start and Pursue Your Goals & Success
New Year – New Fresh Start! Read and Remember these powerful quotes on Goals and Success and take them with you each morning!
Positive New Year Quotes on being Strong and Believing in Yourself
Breath in, breath out and calm down! You can do it!
Here are some cheerful and inspirational quotes to write in a card or to make a toast!
Best Quotes for New Year's Eve Celebration
Be the genius of the evening with these quotes!
New Year Resolution Quotes
Either you keep them or break them, New Year is all about resolutions!
Funny New Year Quotes to make you Smile!
Here is a collection of humorous quotes on New Year!
Sarcastic New Year Quotes
You may dream whatever you wish – as long as you keep your feet on the ground. Land on Reality with these bright quotes!
If You Like it, Pin it!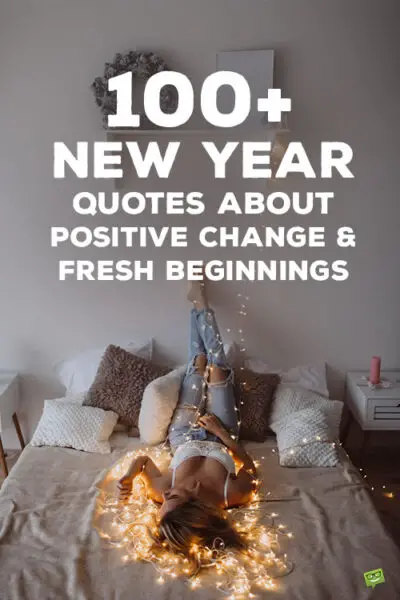 You May Also Like:
55 Fun Captions for Those New Year Pics
With Good Will and Luck | 136 Happy New Year Wishes
Let's Make It a Year to Remember | 31 Happy New Year Images