60 Powerful Quotes on Opportunity and Taking Chances
No matter where you are or who you are with, opportunities are all around you. All you need to do is actually be aware of them and you will clearly see them.This carefully curated collection of opportunity quotes will paint a picture about life's own favorable circumstances.
It may be that business opportunity that you are waiting for or that financial advancement and promotion you wanted. However, don't be blind to the ones that will help you achieve what you want in life. Such moments are also present and you need to make the effort to grab yours. They are there for you to take advantage of, explore your options and follow certain paths as well as meet new people along the way that will be beneficial for your future. Many famous individuals have seen and experienced where it has taken them. Others have struggled and created their own opportunity.
Also many people have cashed in on one and changed their entire life. The fact is that we don't live in a world of equal opportunities, but in spite of this, everyone can jump at one as that leap may be the golden one. Considering different perspectives and being observant are always helpful to start the hunt.
Read on to find a remarkable selection of quotes by renowned scientists, presidents, authors, athletes and more. They have expressed words of wisdom from their own life experiences and will encourage and motivate you, friends and loved ones to always remember that when a door closes another one opens and it's a matter of time when everyone catches a break. Don't miss out on it.
Famous Opportunity Quotes to Boost your Confidence
Finding an opportunity and creating your own opportunities are key elements of success. These quotes will help you establish the right mind-set!
If opportunity doesn't knock, build a door. Milton Berle
In the middle of difficulty lies opportunity. Albert Einstein
Don't wait for the right opportunity: create it. George Bernard Shaw
To see an opportunity, we must be open to all thoughts. Catherine Pulsifer
Your big opportunity may be right where you are now. Napoleon Hill
A wise man will make more opportunities than he finds. Francis Bacon
Every mistake committed is a learning opportunity. Santosh Kalwar
If a window of opportunity appears, don't pull down the shade. Tom Peters
No great man ever complains of want of opportunity. Ralph Waldo Emerson
Opportunity doesn't make appointments, you have to be ready when it arrives. Tim Fargo
Some people only dream of success… while others wake up and use Cosmic Ordering. Stephen Richards
A pessimist sees the difficulty in every opportunity; an optimist sees the opportunity in every difficulty. Winston S. Churchill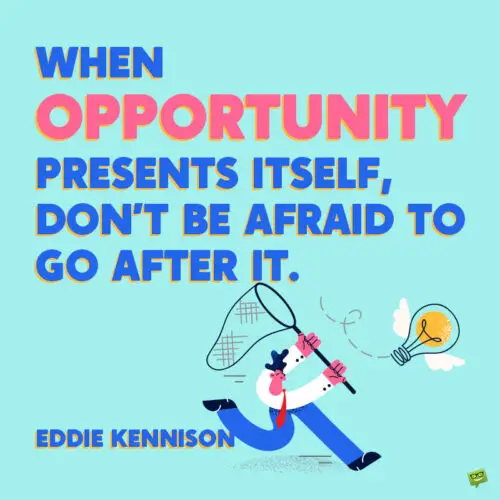 Encouraging Quotes on Seizing New Opportunities
Like Oprah said, "luck is preparation meeting opportunity". New opportunities appear all the time, as long as you are prepared and ready to grab them!
Opportunity knocks only once. Abah Mohd Khairul Anuar
When opportunity presents itself, don't be afraid to go after it. Eddie Kennison
Treat every opportunity as though it were the last you would ever get. Fela Bank-Olemoh
Not knowing when the dawn will come
I open every door. Emily Dickinson
#1425: When you really like someone, tell them. Sometimes you only get one chance. Jackson Brown Jr.
Doors of opportunity are always open around you—you just have to find them. Debasish Mridha MD
It's through curiosity and looking at opportunities in new ways that we've always mapped our path. Michael Dell
Sometimes opportunities float right past your nose. Work hard, apply yourself, and be ready. When an opportunity comes you can grab it. Julie Andrews Edwards
I believe luck is preparation meeting opportunity. If you hadn't been prepared when the opportunity came along, you wouldn't have been lucky. Oprah Winfrey
Missed Opportunity Quotes to Reflect upon Failures of the Past
Missing an opportunity is not a reason to get discouraged; on the contrary, failure can teach you an important lesson so that you're ready for the next opportunity!
How much I missed, simply because I was afraid of missing it. Paulo Coelho
Most people miss Opportunity because it is dressed in overalls and looks like work. Thomas A. Edison
Realize that if a door closed, it's because what was behind it wasn't meant for you. Mandy Hale
If you were waiting for the opportune moment, that was it. Captain Jack Sparrow
Nothing is so often and so irrevocably missed as the opportunity which crops up daily. Marie von Ebner-Eschenbach
When a great moment knocks on the door of your life, it is often no louder than the beating of your heart, and it is very easy to miss it. Boris Pasternak
Business Opportunity Quotes to Work up on your Success
The following quotes describe how opportunity finding is a central aspect of entrepreneurship.
Opportunists seek for a chance.
Entrepreneurs make new chances. Toba Beta
Business opportunities are like buses, there's always another one coming. Richard Branson
If somebody offers you an amazing opportunity but you are not sure you can do it, say yes – then learn how to do it later! Richard Branson
Stay open to opportunity — you never know where your next important connection will be made. Nicholas Boothman
To be a tremendous success, look for opportunity rather than security. Debasish Debha, M.D.
Everyone is looking for great opportunities, it's up to you how well you represent an opportunity. Anuj Jasani
The entrepreneur always searches for change, responds to it, and exploits it as an opportunity. Peter Drucker
Optimistic Quotes about Challenges and Opportunities
There are different ways of dealing with a challenge or a crisis; some will be daunted, while others will be open and ready to move on and transform challenges to opportunities.
Victory comes from finding opportunities in problems. Sun Tzu
It's not a competition, it's a doorway. Mary Oliver
The only time you fail is when you fall down and stay down. Stephen Richards
Failure is only the opportunity more intelligently to begin again. Henry Ford
Deep within every crisis is an opportunity for something beautiful. Kate McGahan
The excitement of opportunity and challenge inspires us to push for greatness. Lorii Myers
Do not despise your own place and hour. Every place is under the stars, every place is the center of the world. John Burroughs
Our most significant opportunities will be found in times of greatest difficulty. Thomas S. Monson
Inspirational Quotes on Opportunity in Life
Life itself is an opportunity to love and pursue happiness for ourselves and for the world around us.
Every sunset is an opportunity to reset. Richie Norton
Coincidences give you opportunities to look more deeply into your existence. Doug Dillon
I believe that every single event in life happens in an opportunity to choose love over fear. Oprah Winfrey
Any human anywhere will blossom in a hundred unexpected talents and capacities simply by being given the opportunity to do so. Doris Lessing
How soon will we accept this opportunity to be fully alive before we die? Stephen Levine
We would all like a world where everyone has equal opportunities and receives fair treatment. Aileen Nielsen
Too many people are thinking of security instead of opportunity. They seem more afraid of life than death. James F. Byrnes
…one opportunity leads directly to another, just as risk leads to more risk, life to more life, and death to more death. Markus Zusak
Motivational Opportunity Quotes to Help you Focus on Effort
Planning ahead, being committed, working hard and being open to new things will help you create opportunities; these quotes will help you never give up!
I will prepare and someday my chance will come. Abraham Lincoln
Those who don't jump will never fly. Leena Ahmad Almashat
I take the opportunity each day offers. Andy Goldsworthy
Imagine that the impossible is an opportunity. Rajesh Walecha
Give me but a firm spot on which to stand, and I shall move the earth. Archimedes
Time is limited and some opportunities never repeat themselves. Belle de Jour
Opportunity does not waste time with those who are unprepared. Idowu Koyenikan
There always comes a time in life where you can either give up or step up. Graeme Rodaughan
Today I will take the opportunity to do unanticipated good. Steve Maraboli
I will not be a common man. I will stir the smooth sands of monotony. I do not crave security. I wish to hazard my soul to opportunity. Peter O'Toole
Don't sit around and wait for the perfect opportunity to come along —find something and make it an opportunity. Cecile Richards
Focus on effort. I never know what's changing around me. Opportunities can open up when we least expect them. Stay focused on goals. Kara Goucher
Expect change. Analyze the landscape. Take the opportunities. Stop being the chess piece; become the player. It's your move. Tony Robbins
If you like it, pin it!
You May Also Like:
120 Future Quotes About the Power to Shape Our Lives
130 Dazzling Photography Quotes About the Art of Capturing the Moment
111 Attitude Quotes on the Space Between Acceptance and Initiative