77 Wayne Dyer Quotes for a Breakthrough in your Self-development
The story of Wayne Dyer is an inspirational rugs-to-riches tale. This, along with the following Wayne Dyer quotes, just goes to show you that no matter how poor or underprivileged you might be you can still achieve your dreams. Dyer had a difficult childhood and grew up in a number of foster homes and orphanages, but this proved to be his driving force in life for making his dreams come true.
Born in Detroit, Michigan in 1940, Wayne Walter Dyer was an American motivational speaker and author. He started his career as guidance counselor and university lecturer, before quitting in order to promote his first book "Your Erroneous Zones", an all-time best seller. Dyer proceeded to build on his success by lecture tours, publication of new books and talk shows on national television. He died of a heart attack, in 2015, in Maui, Hawaii.
Considered as the "father of motivation", Dyer had an enormous influence on people all over the world. Drawing upon his personal life experience, he urged them to trust their inner self and to awaken to their true potential. He propagated the idea of self-reliance and self-actualization as the means to personal development and positive transformation. Dyer encouraged his followers to appreciate their uniqueness as being part of the Divine and to emulate Jesus Christ or Buddha as examples of self-actualized persons. A philanthropist himself, he promoted the ideals of kindness and being of service to others.
Here we have collected for you the most inspirational quotes of this life coach and guru to share with loved ones in order to motivate them, but also to enlighten you and see things from a different perspective! Use them to add sophistication to your Instagram and social media posts or save them on your phone to start your day with positive energy!
Table of Contents
Best Wayne Dyer Quotes that Will Make You Adopt a Bright Outlook
Read these powerful quotes and share them with your friends and family on social media to offer and attract good energy every day!
Affirmation Quotes by Wayne Dyer to Help You Gain Self-confidence and Achieve Success
Start your day with one of these quotes and see how everything will improve to the better.
Inspirational Wayne Dyer Quotes to Bring out the Goodness in you
If you seek happiness and peace and try to stay connected to your inner truth, you must read the following quotes!
Deep Quotes by Wayne Dyer on Love and Relationships
The message of these quotes is to embrace love and acceptance in your life towards yourself and other people and let the miracle happen!
Mindful Wayne Dyer Quotes [on Life] that will help you Enjoy and Lead a Meaningful Life
These quotes emphasize on what is worth in life and how you can make your living meaningful and important for yourself and for the world.
Wise Wayne Dyer Quotes from the book Change Your Thoughts – Change Your Life
Here are some carefully selected quotes by the famous guru that will help you adopt a positive and optimistic worldview.
Positive Wayne Dyer Quotes about Gratitude and Appreciation
These insightful quotes will remind you to say 'thank you' for each and every day and focus on what you already have instead of what you think you are missing.  
If you like it, pin it!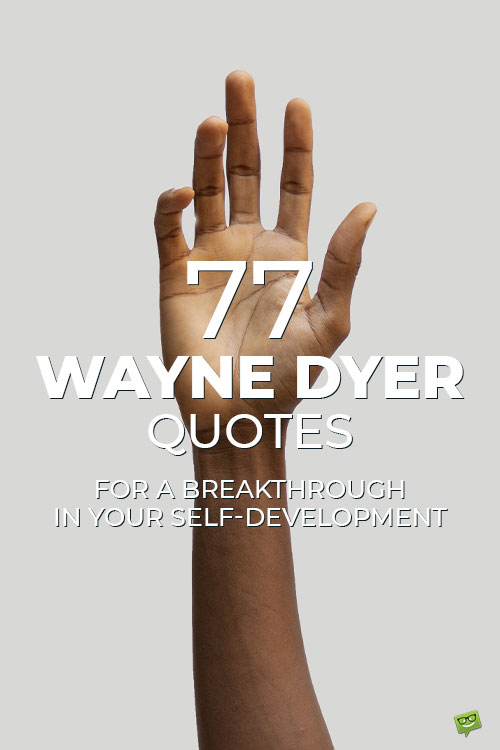 You May Also Like:
75+ Jim Rohn Quotes That Tell it Like it is and Motivate Success
See You at the Top | 150 Zig Ziglar Quotes
140 Napoleon Hill Quotes About the Drive for Achievement
60+ Know Your Worth Quotes to Enhance your Self-love and Live an Authentic Life