Off the Top of My Head | 88 Stylish Hair Captions
For most of us, our hair tells a statement to the rest of the world. We cut it, dye it, curl it, and straighten it- all while taking tons of pictures to post on the many social media platforms we're privy to. When you're enjoying a new hair look, we don't blame you for wanting to show yourself off on Instagram!
You've taken the perfect picture, and you're ready to post it for your friends and followers. However, you may be drawing a blank at how to describe your photo. Choosing the right caption is important, so let us help you find the right way to express yourself when you're eager to show off your new hairstyle!
New Hair Captions
You wanted a change for your hair, and now you want to show the world- use these captions for your new hair pictures!
New day, new me! Time for a change, and my hair was the first to accept the challenge!
Out with the old and in with the new; hair, that is!
Loving my new hair! Ready to take on the world!
My hair was in need of a major upgrade-drum roll, please! What do you think?
Who doesn't need a change now and again? Behold, the new me!
Life is a highway, and I live for drastic changes to keep my soul on fire!
This hair was made for partying-let's get the night going!
New hair, new look, new outlook on life!
Curly Hair Captions
Who doesn't want to show off their beautiful curly hair with a great quote to go along with the picture?
I thought about staying in for the night, but my curls have other plans!
I was cured by my curls!
Curly hair, don't care-let's get the party started!
My curly hair cannot be tamed, and that's just how I like it!
Happiness is curly hair you can lose yourself in.
Curly hair isn't just a style-it's an attitude that can't be tamed.
My life might not be perfect right now, but my curls certainly are!
My attitude is big and demanding, and so are my curls!
My curls are a reflection of my soul-wild, crazy, and unstoppable!
Short Hair Captions
When you decide to take the plunge and cut your hair into a shorter look, use these captions to tell everyone how you feel!
I'm cutting out the negativity in my life, so I decided to start with my hair!
Short hair rules!
Short hair-don't care!
Life is short, so why bother spending hours messing with long hair when you can still look like this?
Life is too short to spend hours a day dealing with long hair.
My life may not be altogether, but my hair certainly is!
Short hair is the bomb!
My hair is as short as my temper can be!
Letting my hair do all the talking for me!
Long Hair Captions
When your hair is long, you want the perfect caption to express your thoughts-check them out below!
I use my hair as a shield-the longer, the better!
Rapunzel, Rapunzel, let down your hair!
Long hair represents my heart and soul- strength, resilience, and patience.
My length is my strength.
The days may be short, but my hair certainly isn't!
My long hair is a statement of my love for life- and I have a lot of both!
When life gets on your nerves, just flip your hair at it and walk away!
Just because life is short doesn't mean your hair has to be!
Blonde Hair Captions
When you're making the change to blonde, your pictures need the best caption you can come up with!
Don't keep calm, go blonde!
Go ahead-bring on the blonde jokes!
Ready to take on the day with my new blonde locks!
Why live a boring life? Bring on the blonde!
About to see if blondes really do have more fun!
Blonde and beautiful-what a dangerous combination!
Going blonde should be a sin-one you want to commit, that is!
Changing my hair color to reflect the angel that I am!
Say it loud-I'm blonde and I'm proud!
I've heard that blondes have more fun, and I'm about to test that theory to the max!
Black Hair Captions
The color black is sleek and sexy- why not choose the right caption to go along with your new look?
I'm living through my hair-dark, brooding, and sexy!
Dyeing my hair as black as my soul.
Black hair represents power, strength, and courage- three traits I strive to have every day!
Decided a change was in order for my hair, so viola! Black hair it is!
Change is good for the soul, so I started with my hair!
Black is beautiful!
It's not just a hair color to me, it is a state of mind!
Looking for a drastic change. Did I do it?
I needed a dramatic change to go along with my new lifestyle- here it is in all of its glory!
Red Hair Quotes
Nothing says dramatic like a head of red hair, so check out the following captions that will make your picture pop!
A blond may be noticed right away, but a redhead will never be forgotten!
Changed my hair color to represent my inner self-fiery, dangerous, and out of control!
They say men prefer blonds because they can't handle a redhead!
I picked a hair color that represented my view on life- fabulous, exciting, dramatic, and fun!
My hair now represents the fire in my heart and soul!
When life gives you red hair, make sure to embrace it fully!
My superpower is my red hair!
I try not to mess with perfection, so I kept my hair as red as the night sky!
Blue Hair Captions
You want a dramatic caption to go along with your dramatic look, so check out the following captions you can choose for your blue-haired pictures!
When your hair color matches your fiery attitude!
Living my life in color!
Life is much too short to have boring hair!
I decided to make them stop and stare!
Blue hair, blue eyes, life is too short to do otherwise!
Ready to make the world sit up and take notice!
My hair is as blue as the sky on this gorgeous day!
I love how my hair turned out-it is BLUE-tiful!
Messy Hair Captions
Sometimes, messy hair is the way to go, so choose from one of the following captions to go along with your picture!
Life is too short to deal with messy hair every day!
It's messy hair day and I do not care!
My hair isn't messy, it's just exploding with awesomeness!
When your new hairstyle is called "I tried", this is what you get!
It may be in a messy bun, but at least I'm getting something done!
Wild, loud, and proud!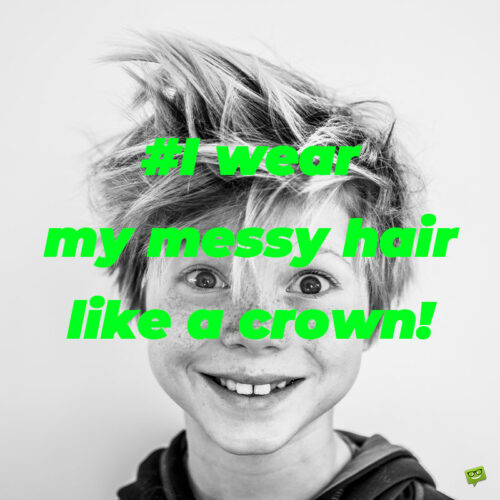 I wear my messy hair like a crown!
My hair may be messy, but at least my life isn't!
Famous Bad Hair Day Quotes
It's hard to have a bad hair day when you're famous. Marion Jones
If I have a bad hair day, I just think, Well, it will be an OK hair day tomorrow. Just put your head down and go. Mitt Romney
Everybody has a bad hair day, but us girls still like to be told we look nice even if we don't feel like we do. Cat Deeley
If I'm having a bad hair day, I pick something from my huge collection of hats. Olivia Thirlby
Of course I have bad hair days; I'm human. Ryan Lochte
Everyone has a bad hair day; the trick is not to have one on picture day. Mark R. Woodward
Judgment is discernment on a bad hair day. Mary Anne Radmacher
I recorded my hair this morning, tonight I'm watching the highlights. Jay London
I remember straightening my hair because I wanted to be like everybody else, and now the fact that anybody would emulate what I do? It's just funny. Taylor Swift
My hair has never been my greatest feature, so that was funny enough unto itself that my hair became so focused on. Jennifer Aniston
I do have bad hair days. If I fall asleep with it slightly damp, I wake up and it'll all be piled up on top in a mess. Georgia May Jagger
You may also like:
111 Amazing Selfie Captions for Pics of Yourself
99 Holding Hands Quotes and Captions for Those Tender Moments
Girl Power | 80+ Instagram Captions for Girls of All Ages
39 Tattoo Captions for the Ink that Adorns Your Skin