45 Powerful Yoko Ono Quotes About Art, Time & Dreams
Her name translates into English as "Ocean Child", but for the press she was the "Dragon Lady", demonized and vilified for instigating the split of one of the world's greatest music bands.
Born in 1933 in Tokyo, Japan, Yoko Ono is a Japanese conceptual artist and performer, musician and peace activist. Ono became internationally famous when she married musician John Lennon of the Beatles.
She started piano lessons at the age of 4 and also learned traditional Japanese instruments from her mother. When the family moved to New York in 1953, Ono became involved with the Fluxus movement and Dada inspired conceptual avant-garde art. She started her music career with the formation of the Plastic Ono Band, achieving acclaim with the Grammy Award winning album "Double Fantasy".
A ground breaking, albeit misunderstood, artist and activist, Ono dedicated her life campaigning for human rights and peace, despite the hostility and criticism she received. In recognition of her endeavors she was honored with the Dr. Rainer Hildebrandt Human Rights Award. Besides her artistic and activist accomplishments, Ono is also known for her donations and contributions to the arts and peace, charity and numerous other philanthropic causes.
In memory of John Lennon, Ono funded the Strawberry Fields memorial in Central Park and the Imagine Peace Tower in Iceland. She has also inaugurated a biennial LennonOno Grant for Peace and founded the Artists Against Fracking association.
Here we have curated for you the most inspirational quotes of this exceptional, avant-garde artist and muse. Share them with loved ones in order to motivate them! Use them as a caption to add sophistication to your Instagram and social media posts! Bookmark them or save on your phone as a daily dose of positive influence!

Short Yoko Ono Quotes and Instagram Captions about Life and Love
Read these powerful Ono's quotes, find one that resonates with you and save it on your phone or write it down to your notebook!
Grow love with me. Yoko Ono
Every drop in the ocean counts. Yoko Ono
Love is what it takes to fly. Yoko Ono
In your head, a sunset can go on for days. Yoko Ono
I'm not going to doubt my life. Yoko Ono
Our thoughts determine our age. Yoko Ono
Healing yourself is connected with healing others. Yoko Ono
We don't know ourselves more than half. Yoko Ono
You can be very wild and still be very wise. Yoko Ono
Listen to the sound of the earth turning. Yoko Ono
Art is my life and my life is art. Yoko Ono
Art is a way of survival. Yoko Ono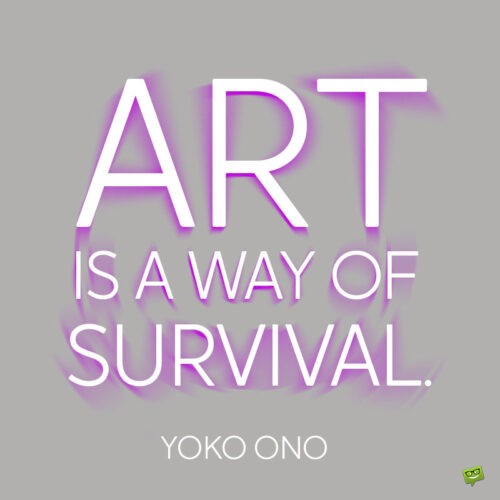 I thought art was a verb, rather than a noun. Yoko Ono
Life with another person is always difficult. Yoko Ono
You change the world by being yourself. Yoko Ono
I feel sad that he's just a voice now. Yoko Ono
Motivational Yoko Ono Quotes to Strengthen your Will to go after your Dreams
Here are some uplifting quotes to read and keep in your mind for encouragement and support in those difficult days!
You may think I'm small, but I have a universe inside my mind. Yoko Ono
Each time we don't say what we wanna say, we're dying. Yoko Ono
Whisper your dream to a cloud. Ask the cloud to remember it. Yoko Ono
Use your blood to paint. Keep painting until you faint. Keep painting until you die. Yoko Ono
We've been filled with great treasure for one purpose: to be spilled. Yoko Ono
It's better to dance than to march through life. Yoko Ono
Every moment in our lives is a miracle we should enjoy instead of ignoring. Yoko Ono
Look at yourself in the mirror and don't be afraid to notice how beautiful you are. Yoko Ono
Smile in the mirror. Do that every morning and you'll start to see a big difference in your life. Yoko Ono
Write down everything you fear in life. Burn it. Pour herbal oil with a sweet scent on the ashes. Yoko Ono
Don't ever give up on life. Life can be so beautiful, especially after you've spent a lot of time with it. Yoko Ono
Tape the sound of the moon fading at dawn. Give it to your mother to listen to when she's in sorrow. Yoko Ono
Have the courage and strength to be yourself. Because there is no other choice. Do you have a choice of being somebody else? Yoko Ono
Imagine a dolphin dancing in the sky. Let it dance with joy. Think of yourself at the bottom of the ocean watching. Yoko Ono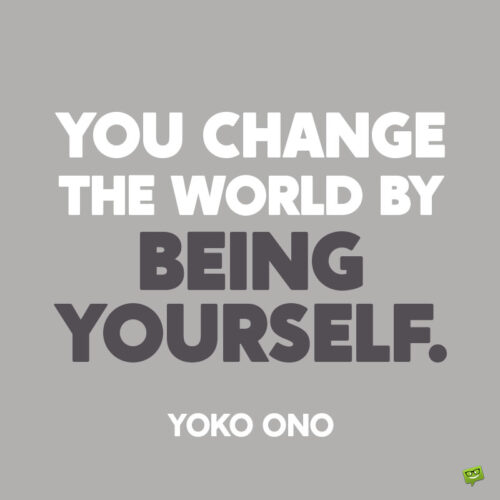 Inspirational Yoko Ono Quotes to Change your Perceptions about Time and Relationships
Our thoughts and perceptions make the quality of our life – these quotes will make you think about it. Write down those you prefer best for the times you need a reminder to think positively!
Some people are old at 18 and some are young at 90. Time is a concept that humans created. Yoko Ono
A dream you dream alone may be a dream, but a dream two people dream together is a reality. Yoko Ono
Mirror becomes a razor when it's broken. A stick becomes a flute when it's loved. Yoko Ono
We are all dreamers creating the next world, the next beautiful world for ourselves and for our children. Yoko Ono
All my life, I have been in love with the sky. Even when everything was falling apart around me, the sky was always there for me. Yoko Ono
I saw that nothing was permanent. You don't want to possess anything that is dear to you because you might lose it. Yoko Ono
Try to say nothing negative about anybody.
a) for three days
b) for forty-five days
c) for three months
See what happens to your life. Yoko Ono
Cosmetics is a boon to every woman, but a girl's best beauty aid is still a near-sighted man. Yoko Ono
People are afraid of shadows. People are even more afraid of being in the shadow. But without a shadow, life will be two dimensional. Yoko Ono
Give death announcements each time you move instead of giving announcements of the change of address. Send the same when you die. Yoko Ono
Poetic Yoko Ono Quotes on the Interconnected World
Read these unique meaningful fragments of Ono's poetry. Everything and everybody on our planet are related to each other!
Spring passes and one remembers one's innocence.
Summer passes and one remembers one's exuberance.
Autumn passes and one remembers one's reverence.
Winter passes and one remembers one's perseverance. Yoko Ono
We're all water from different rivers,
That's why it's so easy to meet,
We're all water in this vast, vast ocean,
Someday we'll evaporate together. Yoko Ono
Imagine the clouds dripping
Dig a hole in your garden to
put them in. Yoko Ono
Each planet has its own orbit agenda.
Think of people close to you as planets.
Sometimes it's nice to just watch them
orbit and shine. Yoko Ono
Sleep in separate cities.
Sleep in separate countries.
Sleep on separate planets.
Whisper to each other. Yoko Ono
If you like it, pin it!
You May Also Like:
Remembering A Legacy That Urges Us to Imagine | 148 John Lennon Quotes
Means of Expression, Key to Solutions | 199 Art Quotes
74 Undeniably Fab Quotes and Lyrics by the Beatles
72 Quotes to Help You Say "You Are Amazing"