111 Lake Quotes and Captions for Deeper Instagram Moments
When quality time is what you are looking for, your nearby lake is where you want to be. There are always plenty of activities you can do to match your mood, whether you want to relax in the sun or take a swim in the warm water. Of course, you'll want to take plenty of pictures to post on social media when you're enjoying the lake, right? We all want others to see the same beauty we are faced with!
We've put together the best captions and quotes about lakes which you can use when you're looking for just the right description for your picture. Check out the following lake quotes and captions that will pair well with your latest photo!

Short Lake Captions
When time is of the essence, pick one of these short lake captions to describe your latest photo on social media!
Time at the lake is a treasure.
Happiness is warm water and a peaceful sunset.
Lake life is the best life for everyone.
Vacation mode has been activated!
Break time, lake time.
Living life to the fullest!
Livin' large at the lake.
The lake is nature's pool.
The water is my happy place.
Splishing and splashing!
Watch me float away!
Leaving all my worries behind!
Peace and contentment all day.
Lake vibes!
Packing my bag is easy when it's for the lake!
Don't splash my good vibes!
There is nothing more peaceful than a day on the lake.
Live life to the fullest at the lake.
Swim, swam, swum. I've done it all!
Just keep swimming, just keep swimming!
At the lake, every hour is happy hour. Unknown
Funny Lake Captions
When a laugh is what you are hoping for, check out the following funny lake captions we have ready for your perfect pictures!
Livin' la Vida Loca at the lake!
The ocean called, they want me back right away!
When life gives you water and sun, swim and tan in it!
Sunning on the lake is the best therapy!
Tan lines and great times!
I lake you a lot!
Living by the rules of the lake- sleep late, tan often, swim hard, relax daily!
Lake times are the best times!
Keep calm and swim on.
The lake is no place for stress!
Drinking at the lake doesn't count!
It's always time to have a cocktail when you're at the lake!
Swimming and tanning and relaxing and drinking? Yes, please!
I'm 100% out of commission when I'm at the lake!
Water and sun and fresh air, oh my!
I hope I don't drown!
Lake breeze puts me at ease. Unknown
There is always time for a quick dip in the lake!
Live, love, laugh, and lake.
What happens in the water, stays in the water.
I'm sorry, I couldn't hear you above the lake calling my name!
Crazy days, relaxing nights!
There's no wi-fi at the lake but you'll find a better connection. Unknown
Cute Lake Captions
There is nothing better than a beautiful picture of the lake, and we are ready with the perfect caption to go with the cuteness you've captured!
If you're looking for me, I'll be at the lake. On the other hand, don't look for me unless it is an emergency!
Being at the lake is the best therapy there is!
Swimming on the lake on a lazy day is the best way to get your head straight!
I can't imagine a day that is better than one spent in the sun on a beautiful, sparkling lake.
Take me lakeside when you want to see my best side!
I'll never love any place as much as I love this lake.
If you need me, I'll be on lake time.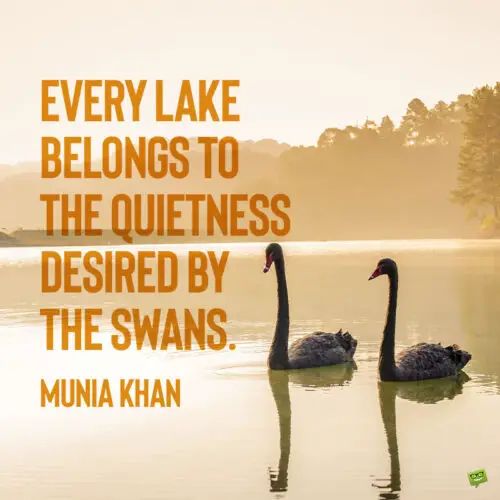 Lake your worries disappear!
If heaven were a place on earth, the lake would be the top contender.
If anyone needs me, I will be lost on the lake.
You're never really lost when you're floating on a beautiful lake on a sunny day.
A picture may tell a thousand words, but the beauty before me makes me speechless.
When the lake calls me, I must answer.
Lake hair. Don't care. Unknown
A bad day at the lake is still better than a good day at the office!
Don't bother me, I'm searching for the perfect seashell!
The sunrise and sunset on the lake just hits different!
It's a beautiful day in the lake-hood!
The lake I'm at may be smaller than the ocean, but my love for it is just as big.
I'm living by lake rules, and no one can stop me!
I swear to always keep my head above the water!
Fresh air, don't care!
Famous Lake Quotes
If there is magic on this planet, it is contained in water. Loren Eiseley
Perhaps the truth depends on a walk around the lake. Wallace Stevens
Memories made at the lake last forever. Unknown
A lake is a landscape's most beautiful and expressive feature. It is Earth's eye; looking into which the beholder measures the depth of his own nature. Henry David Thoreau
Make your heart like a lake with a calm, still surface and great depths of kindness. Lao Tzu
A lake carries you into recesses of feeling otherwise impenetrable. William Wordsworth
Of all the paths you take in life, make sure some lead to the lake. Unknown
We cannot see our reflection in running water. It is only in still water that we can see. Zen Saying
When the mind is silent like a lake the lotus blossoms. Amit Ray
Time wasted at the lake is time well spent. Unknown
So lovely was the loneliness of a wild lake. Edgar Allan Poe
Water creates so much beauty, life and mystery. Fennel Hudson
The lake is good for the soul. Unknown
All you need is love and the lake. Unknown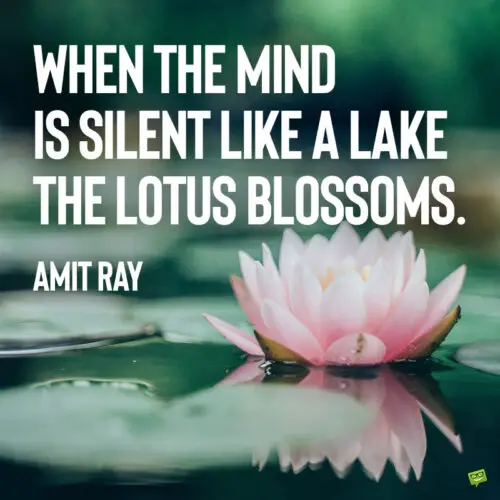 Be calm like a calm lake, then you will look beautiful like a beautiful calm lake! Mehmet Murat ildan
Looking out over the lake, I felt enveloped in the most peaceful, loving utopia. Laurie Kahn
Even the smallest act of caring for another person is like a drop of water. It will make ripples throughout the entire pond. Bryan Matteo
A normal lake is knowable. A Great Lake can hold all the mysteries of an ocean, and then some. Dan Egan
It is life, I think, to watch the water. A man can learn so many things. Nicholas Sparks
I go to nature to be soothed and healed, and to have my sense put in order. John Burroughs
Every lake belongs to the quietness desired by the swans. Munia Khan
For a moment, I was safe, wrapped in a blue-hued embrace. Gina Marinello-Sweeney
The lake of my mind, unbroken by oars, heaves placidly and soon sinks into an oily somnolence.' That will be useful. Virginia Woolf
Even a pebble cast in the middle of a lake creates ripples that eventually reach the shore. Jeffrey G. Duarte
And I say also this. I do not think the forest would be so bright, nor the water so warm, nor love so sweet, if there were no danger in the lakes. C. S. Lewis
Rivers, ponds, lakes and streams – they all have different names, but they all contain water. Just as religions do – they all contain truths. Muhammad Ali
Mindfulness arises when you allow your attention to fall effortlessly on the breathing point like an autumn leaf falling on a lake of still water. Amit Ray
Lake Life Quotes
Life is better at the lake. Unknown
Skip a stone. Take a hike. Sit a spell. Listen. Daydream. Just breathe. This is lake living. Unknown
I grew up with the smell of the lake and the feeling of the woods. Steven Tyler
I don't need therapy, I just need my boat. Unknown
I could never in a hundred summers get tired of this. Susan Branch
If you live in the mountains, you long for the trees and the lakes. Mitt Romney
The lake: Life slows down. Friends stay longer. Unknown
Lake Michigan Quotes
There's only one way to tackle life, enjoy a day at the beach, and jump into a Great Lake: Headfirst! Viola Shipman
Lake Michigan's definitely moody. It's not just bi-polar, but beyond schizophrenic. Its dozens of surrounding lakes and waterways never know what to expect on a day-to-day basis. She is awesome at calm and awesome at dangerous. Yasmina Haque
Northern Michigan is a tourist's sanctuary. There are miles and miles of calm teal blue saltless silky smooth water and also miles and miles of million white-capped deep blue bottomless water. Yasmina Haque
Frozen Lake Quotes
Some people look like frozen lakes; break the ice, there you will see a lively world! Mehmet Murat ildan
I studied his eyes. They were nearly a color today, a frozen lake reflecting a clear blue… Cara McKenna
A man without courage is a boat in a frozen lake! Get rid of your fears! Mehmet Murat Ildan
Making a decision to write was a lot like deciding to jump into a frozen lake. Maya Angelou
You might also like:
31 Waterfall Captions for Your Fresh Instagram Posts
Golden Hour Photo Op! | 45 Sunset Captions
65 Hiking Quotes and Captions for Moments That Count
50 New York Captions for Photos of a Unique City